We've become a generation that loves choice, and why not?
Our fridges are filled with various milk and milk alternatives, and it's the same for promotional products. We can provide fantastic, cost-effective alternative options to traditional branded products.
This weeks top 5 highlight some impressive sustainable promotional gifts. Perfect for up-and-coming summer campaigns and outdoor events, along with helping to demonstrate your commitment to corporate social responsibility by choosing sustainable giveaways.
Track your hydration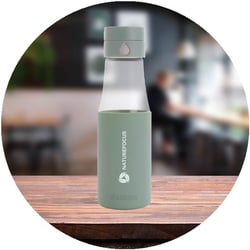 We were given this Ukiyo glass hydration tracking bottle as a sample product to try before adding it to our drinkware range, and everyone was impressed with the clever tracking design.
The lid displays a bigger water drop each time you refill, so you can easily keep count of the number of bottles you drink.
Great way to increase and track your daily hydration goals. Made from durable borosilicate glass, making it easy to clean and durable. The silicone sleeve is available in several colours to compliment your branding.
Check out this Ukiyo Glass Bottle here
Dynamic lunchbox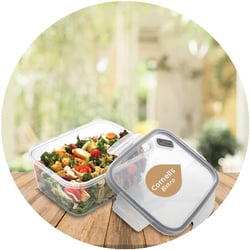 Laptop backpack with a difference

We love the clothing and accessories range from IMPACT. Not only do their products save water, but 2% of proceeds made from each impact product sold is donated to Water.org.
This is a super practical bag with inner pockets to securely pack away your laptop. The bag has a padded back for extra comfort during your commute. The exterior and interior are 100% recycled polyester and PVC free.
This 15.6" water-resistant laptop bag saves 10.7 litres of water as an added positive feature!
Check out this Impact AWARE RPET Water Resistant Laptop Backpack
Perfect drinkware for busy people