Fairtrade fortnight 2022
Fairtrade fortnight is a reoccurring awareness opportunity for commercial partners, consumers, producers and campaigners to come together and further amplify the voices of fairtrade producers on the frontline of the climate crisis.
By raising awareness surrounding the fairtrade process, we are working together to ensure people get paid a fair price for what they sell and have safe working conditions.
Have you thought about choosing from our range of fair trade products for your next marketing campaign to make a difference?
Why should you choose fairly traded promotional products? It's as simple as this: By using fair trade promotional products, you can promote your business with an easy conscience.
There are many good reasons for the use of fairtrade promotional gifts:
positive image transfer from product to your company
increasing demand for sustainable solutions
the significant added value of high-quality products
eye-catching effect: differentiate yourself from other competitors.
Here are our top 5 fairtrade promotion giveaways to help showcase the possibilities of incorporating these products into your sustainable company values.
Promotional Fairtrade Products
Messenger bag with a strong message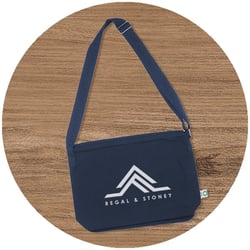 The classic practical messenger bag is a popular choice amongst students for everyday use. They are made from Fairtrade and Organic cotton.
It is available in navy or black and has been dyed with AZO-free dyes, which are considerably better for the environment.
This Green and Good Canterbury Messenger Bag have a pocket on the outside flap - perfect for practical shopping trips.
Check out this Fairtrade messenger bag
Organic backpack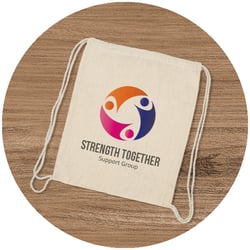 Organic shopper bag

This classic Portobello fairtrade and organic bag is also made from fairtrade and organic cotton.
This bag makes a great promotional bag that we guarantee will be used to carry around other giveaways from other event stands, making your branding stand out.
Check out this Organic shopper bag here
Fairtrade cotton t-Shirt