One of our company goals in 2023 was to continue to make small steps towards protecting the environment and help businesses make swaps for promotional products made from responsibly-sourced materials when possible.
Have you noticed a change in your customers' buying trends compared to last year? In our promotional products industry, we've definitely noticed more requests for eco-friendly alternatives as the rise of customers continue on their sustainability journey and making more eco-conscious decisions.
We've created a dedicated Love Eco product range to inspire you with the possibilities for plastic alternatives. We have stylish and practical products made from FSC-certified bamboo, rPET, GRS recycled material, RCS recycled stainless steel and plastic. Most products are also packaged in FSC mix packaging.

Let's dive in and look at the products closer:
Say hello to your new lunch companion

Say hello to your new lunch companion – PP Lunchbox with Bamboo Lid & Spork! Transporting your food just got easier and more fun. Say goodbye to mess and fussiness with our sturdy elastic strap closure, ensuring that no food can escape while still making sure it's easy to open.
You can customise by engraving or printing up to 5 colours for a design that reflects your branding. On top of all that, the bamboo lid completes the package while keeping it lightweight.

With PP Lunchbox with Bamboo Lid & Spork, functional meets fashionable in one neat little package. Get yours today and enjoy delicious lunches on-the-go! Our friendly team are always available to provide help and advice, because we know customization should be as easy as possible for you!
Click here to view the PP Lunchbox with Bamboo Lid & Spork
Write Responsible Recycled Paper Barrel Pen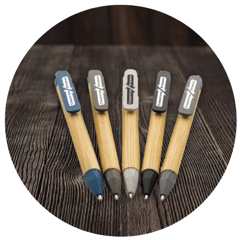 If you are looking for an eco-friendly pen that's both stylish and reliable, then look no further than the XD Collection's Write Responsible Recycled Paper Barrel Pen! This beautiful pen is crafted with recycled paper but looks just like real natural bamboo, with a clip made from wheatstraw. Not only does this pen look great, it also ensures your writing is smooth and consistent thanks to its German Dokumental blue ink refill with TC-ball technology. Plus, you can customise it with a one-colour print too!
Click here to view the Write Responsible Recycled Paper Barrel Pen
Sustainable bamboo with upto160 pages of 70 gsm recycled paper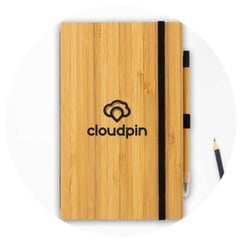 Writing has never been this eco-friendly or convenient before! This FSC® Bamboo Notebook and Infinity Pencil Set is designed to make the act of creating that much more enjoyable.
This beautiful sustainable bamboo notebook contains 80 sheets/160 pages of 70 gsm recycled paper, so you can write and draw with peace of mind. Plus, the whole set is housed in a stylish FSC® certified kraft box for maximum impact.
Click here to view the FSC® bamboo notebook and infinity pencil set
Welcome to the world's most eco-friendly, long-lasting beverage bottle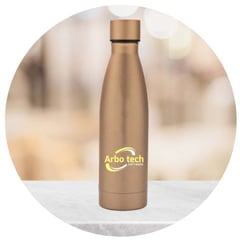 Introducing the RCS Recycled Stainless Steel Solid Vacuum Bottle! With its double wall vacuum construction and made from 85% RCS-certified recycled materials, this bottle keeps your drinks at their ideal temperature for up to 15 hours.

Whether you're heading out to your favourite outdoor spot with friends or just running errands around town, this trusty companion will be there by your side.
It fits easily in most standard car cup holders so you can take it with you wherever you go. And of course, it's completely BPA free!
Click here to view the RCS recycled stainless steel solid vacuum bottle
Introducing the FSC® and RCS recycled plastic 5.000 mAh Powerbank
Ready to take all your power needs on the go with you; this sleek and stylish power bank is made with 20% RCS (Recycled Claim Standard) certified recycled ABS material and FSC® certified bamboo, which makes it eco-friendly and perfect for the conscious consumer.
This go-to device holds a long-lasting grade A 5.000 mAh high density lithium polymer battery, so it's always there when you need it. Power indicators will show how much juice is left, making it easy to know when to recharge!
Type-C input 5V/2A Micro USB Input 5V/2A. Output 5V/2A - enough to give your mobile phone up to three charges on the go.
The Powerbank comes in an FSC® mix packaging and includes a RCS-certified recycled TPE charging cable for convenience.
Click here to view theFSC® and RCS recycled plastic 5.000 mAh Powerbank
When considering eco-friendly promotional items for your next marketing campaign don't forget about our Love Eco range. These great quality items will help you stand out and make a lasting impression. If you would like to prioritise sustainability and affordability our experienced and knowledgeable sales team is more than happy to help.