We did it – we've dropped the C-word in September, but someone has to don't they?!
And after the last 18 months, why not get excited over a 'normal' (well, as close to normal as we can get) Christmas once more.
We've had some fun in the office this week and reviewed promotional products we think are perfect for gifting at Christmas time. Here is our top 5:
Gorgeous Diamond Effect Candle Holder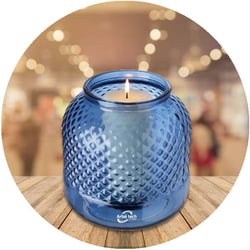 We keep saying it, but the stats don't lie – the pandemic introduced us to a lot of unexpected changes, and the eco-conscious buyer is one that is here to stay (unlike our passion for local walks …).
This gorgeous Estar recycled glass candle holder is available in transparent blue and transparent clear. Starting from just £7.95 they make the perfect Christmas gift to make your brand stand out and shine all year round.
Check out these estar recycled glass candle holders.
No better way to relax than curled up with a cuppa and cosy blanket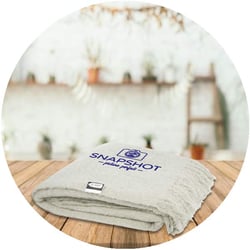 And why not have your brand at the forefront of your customer's relaxation time?!
This ultra-soft RPET Mohair blanket is made from recycled polyester and even packaged in a recycled polybag. Available in two on-trend and stylish colours – Beige and light grey.
Guaranteed to match in with anyone's home-style, or if you are anything like me, it's a handy desk blanket for those air-con office wars.
Check out this Mohair blanket.
The wine lovers tool kit

This is the ultimate gift for any wine lover. The bamboo gift box represents style and class. It's made to be shown off and we guarantee it will be a talking point at all the cheese and wine gatherings now and in the future. This 9-piece wine set includes 1 corkscrew, 2 stoppers, 1 pourer, 1 ring, 1 foil cutter, 1 thermometer, and 2 spare corkscrews.
A perfect sophisticated gift that indeed shows your appreciation.
Check out this gorgeous Malbick 9 piece wine set.
Stylish gift set perfect for foodies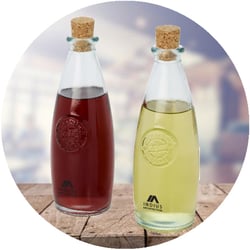 This 2 piece recycled glass set designed as oil and vinegar containers with a cork lid is perfect for those who enjoy cooking or simply enjoy Mediterranean cuisine and love dipping bread in the oil and vinegar mixture.
This will be a staple item out on display in the kitchen all year round.
Salt and pepper with a difference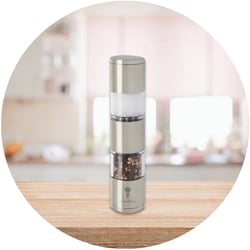 This is a winner in our office – 2 sided grinder with one end for salt and the other for pepper. How often have you sat down to only get up again and fetch one or the other, not to mention the space saver on the kitchen worktop.
Imagine your logo engraved and on show all year around. From just £8.38 it makes a great unique Christmas promotion product to stand out from the crowd.
Check out the auro salt and pepper grinder
With lead times starting from 10 days - you could leave these great Christmas promotional products until December but you don't want to do that do you?! Kick back and enjoy Christmas by getting organised today! We'd be happy to supply the artwork to help you visually see how fab these gorgeous Christmas homeware promotional merchandise would look with your branding.
We hope we've inspired you and reminded you that there are only 92 days left until Christmas. Click on the links to view product prices or contact us for a quotation.
Have a great weekend!
S x