This week we are back to full sustainability!
Drinkware has never been so popular, and we are introducing two fantastic new bottles this week. They look amazing and feel great, the quality is excellent, and we know that whoever you give these to will be thankful! Plus, we have a Recycled paper sticky pad with FSC paper, a tetra water carton and an RFID straw cardholder.
Glass Tumbler with Bamboo Lid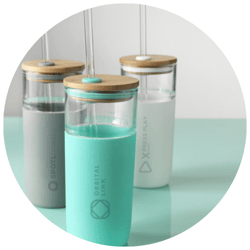 This has to be one of the best quality tumblers I have come across; everyone in the office loves it! It's a single-walled glass tumbler with a cosy soft grip sleeve and a bamboo push-on lid complete with a matching Tritan™ straw!

Do not freeze, and do not microwave this item. You can choose between colour imprinting or our new cutting edge dishwasher safe laser decorating method. Volume capacity is 600ml.
Check out the Arlo Glass Tumbler
Perfect for every occasion.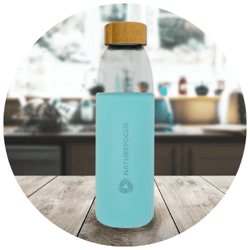 This single-wall BPA free borosilicate glass bottle is wrapped in a soft grip silicone sleeve and features a bamboo screw-on lid and a non-slip bottom which you cannot freeze nor microwave. It's super stylish and would look good in the office, on the go or for use around the house! It has a 540ml capacity and comes presented in an Avenue gift box.
Check out the Kai Glass Sport Bottle.
A new straw alternative!
A more sustainable choice! The RFID credit card protector provides the perfect protection against payment fraud and identity theft because it has an electromagnetic shield made of 50% wheat straw.

The RFID cardholder is also slim, so it can be kept in a wallet, purse or pocket. It also offers a large decoration area and comes in 4 earthy colours.
Check out the Straw RFID Card Holder.
Water in a different way!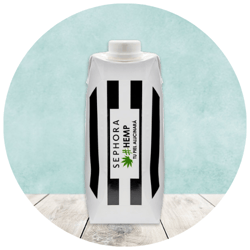 Our environmentally friendly and highly recyclable Promotional Tetra Water Cartons are perfect for eco-conscious marketing campaigns.
This 330ml water carton has a white or black base and can be personalised with a printed label fixed to one or two sides in full colour with your company branding. For high volume, we can print directly onto the carton.

These come with a choice of four cap colours: Black, White, Dark Blue and Red, and it makes these perfect for exhibition handouts and refreshments at corporate events; these promotional water cartons leave a lasting impression on your customers.
FSC Recycled Sticky Notes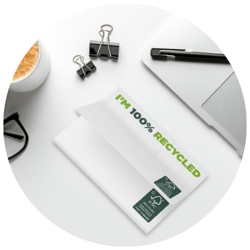 Sticky notes are an all-around favourite with everyone! They come as standard with 50 sheets of self-adhesive sheets, only available in white for FSC.
Full-colour print is available on each sheet.
Lots more sizes are available; call the team to find a size that fits your project and budget!
Check out the Recycled Sticky Note Pads.
All of this week's products are great for sustainability and makes some good easy eco swaps and the same time as offering something new to your campaigns.
Have a great bank holiday weekend; enjoy the extra day if you get it.
Sx
Call the team on 01623 636602 or contact us via the website, and we'll be in touch.