This week we're back to eco pens and new a drinks bottle and gift set!
Wow, we haven't included a promotional pen for a while, and our good friends at Senator have introduced 2 to the market, so we have a look at those, plus a stylish hainenko new design pen available in earthy colours. We're seeing more companies switching to recycled plastic pens and will undoubtedly be introducing more in the coming weeks and months. Remember, small changes make a big difference. We can all do our bit to help, and it will just become the norm for future generations.
New Mood Coffee Cup Gift Set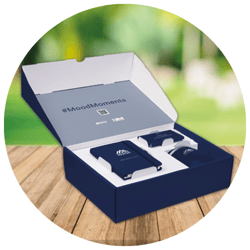 Our best selling Mood Gift Set now has a new addition to the range, a Mood Coffee Cup Gift Set. Beautifully designed featuring rich, tactile materials and bold colours, the Mood™ Collection presents a range of stylish drinkware, notebook and motivation cards that are modern life essentials that blend convenience and invention with exquisite detail.
It comes in a printed box and is versatile, ideal for sending out as gifts to customers or the team; it's a beautifully packed set that will always be well received.
Check out the Mood Coffee Cup Gift Set.
The unmistakable recycling superhero.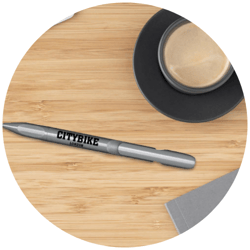 The Evoxx Polished Recycled is made from recycled material, focused on durability and in a forward-looking, unique design that catches everyone's eye. For impressive advertising impact, it's a great stylish pen. Senator work hard on sustainability and produce exclusively with
CO₂-neutral green electricity from hydropower and pay attention everywhere to carefully handling with their resources.
Check out the Evoxx Polished Recycled Pen.
Trento Matt Recycled
: the super-light all-rounder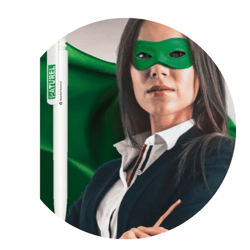 Made using an ABS recompound based on >95% recycled material, this super light all-rounder is perfect for mass promotions and is available in black, white, grey and blue. It comes with the Senator MagicFlow Refill. The refill offers up to 5,000 m of writing without smearing or scratching and is completely document-proof!
Did you know that once your refill is empty, you can get a free replacement at: refills.senator.com? How cool is that!
Check out the Trento Matt Recycled.
Pens made from post-consumer products!
This stylish pen is available in colours that are synonymous with recycled products to fit any printed logo perfectly! They are super sleek in design and quality, and this recycled pen is made from post-consumer products. The refill writes for over 2000m and has a large print area to the barrel and the clip, making it an excellent giveaway.



Check out the Dot Matt RE Extra Pen.
Sleek and stylish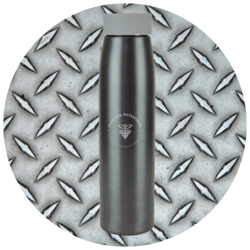 We've added a new sleek and stylish bottle that holds 375ml. It's a double-walled, stainless steel drinks bottle with a PP rubber and plastic lid.

Slimline and durable with a great branding area. BPA and PVC free. Available in black and gunmetal.

Check out the Miro Drinks Bottle.

It feels like a random selection this week, a mix of eco, gifting and reusable drink bottles, but we knew you would want to hear about all of them (and stops me from getting hungry, writing about food).


Have a great weekend, whatever you get up to!

Sx

Call the team on 01623 636602 or contact us via the website, and we'll be in touch.