This week we have a delicious selection of treats and more eco swaps for the winter season.
Here we have a selection of products based around the giving winter season; we're hoping this year it will be a more personal gifting experience, meeting up with customers and sharing the love that we have missed the last couple of years. We kick off with the good old diary, and for 2022 it will be used, unlike the last two more or less blank ones!
A diary that is 100% recyclable
The Nature diary from the Ivory collection offers a 100% recyclable, environmentally friendly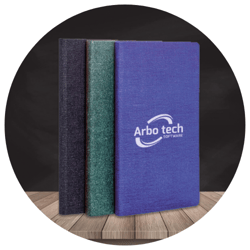 option in a beautifully crafted, practical and durable corporate 2022 diary format.

The textured paper cover is ideal for blind embossing or digital printing in colour.

The diary is presented in a textured, ethically sourced, paper cover Nature diaries include crafted rounded corners for an elegant look and are available in various colours.
Check out the Nature Diary here.
A years' worth of advertising for less than 2p a day.

We all love a handy calendar on our desk and especially one that has multiple uses. On this one, you can personalise your messages each month to engage with your audience. This Recycled Hardcover calendar comes with 12 calendar sheets, a 500 recycled sticky notes pad and 50 markers in 3 colours.
Easy to post out and kept for a year, it makes the most
useful promotional giveaway calendar used each day.
Check out the Recycled Calendar Note.
Gingerbread House Box - Decoration Kit!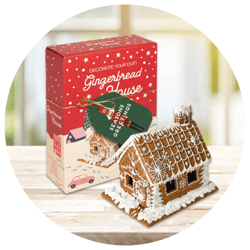 This delightful box is filled with everything you need to decorate your own Gingerbread House. It contains ten biscuits, an icing bag, icing sugar and sugar sprinkles, and it's branded with an elastic gold ribbon and an oversized tag.

These make great team gifts, and you can have hours of fun decorating, or why not think about a company-wide competition! We're also able to ship these to individual addresses as gifts if you prefer!
Check out the Gingerbread House Box Decoration Kit.
Total Luxury in a Box

Check out this super shiny gold Winter Luxury Selection Gift Box, new for this year!!

It comes with all yummy treats fit for Christmas indulgences, and the gift box comes branded with a shiny wrap to the outside. It is made in the UK using sustainably sourced materials.

Boxes are available in Shiny Gold, Santa Red, Christmas Green or Festive Kraft.
Mini Christmas Pudding!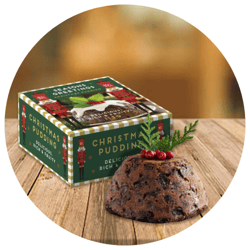 They are a bit like marmite; you either love it or hate it! Our house is a 50/50 split, so it's usually a Boxing day treat for those that love it (or summer when we realise we forgot it).
This Mini Christmas Pudding Box filled a 113g Christmas Pudding in a clear flow wrap and with a digital print to the entire box. When we say plastic-free - it's the packaging, not the actual pudding that is plastic-free - that was always plastic-free!

It is made in the UK using sustainably sourced materials, and the box can be recycled or home composted.
Check out the Mini Christmas Pudding.
It seems early to be thinking about Christmas gifting, especially since summer hasn't even happened yet, but it's a good time to start getting prepared ready, and of course, it's fun to start Christmas shopping now!
Let's hope the sun comes out to play, and we can all get a bit of Vitamin D! Whatever you do, have a great weekend.
Sx
Call the team on 01623 636602 or contact us via the website, and we'll be in touch.