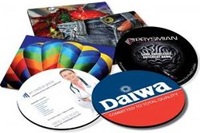 How do you get your business into the minds of your customers on a daily basis? One of the best ways is with promotional mouse mats. They are used for hours on end every day, and with the pc not an integral part of working and home life, it's an integral part of any business and home office setup.
Printed mouse mats are extremely cost effective advertising medium. You can display your latest company advertising directly to your customers on a daily basis and coupled with the sheer affordability of promotional mouse mats, it is almost impossible to dismiss mouse mats as a front runner when considering promoting your company.
The Pellacraft Team.