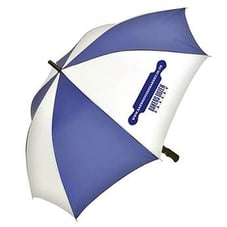 On average it rains around half the year in the UK. If it didn't I suppose we wouldn't have the famous saying "England's green and pleasant land", plus, what would we talk about for most of the day?
Now think of the rain not as a hindrance or something to hate but as a great advertising ally! A great way of promoting your business is with printed umbrellas. They are very cost effective and have some of the largest print areas for any promotional product available!
Adding your logo to umbrellas is a great way of getting noticed. They turn into a mobile advertising board for your company, ensuring your logo is seen by potentially hundreds of people on a regular basis.
There are many types of umbrellas available from budget to golf umbrellas or automatic umbrellas. So make sure you take full advantage of the great British weather and find a new love for the rain, not enough people appreciate it I think.
Either visit our Special Offer page or call us on 01623 636602 and see what we can do to help you get the most out of your advertising budget.