Have you ever paid a fortune to have the VIP exhibition stand at an event only to find attendees bypassing your stand anyway?
What if you used that stand fee to pay for a perfect giveaway totes bag that will have your target audience queuing up to see you?
That happened to us once – we accidentally ended up with the cheapest stand at the exhibition, so we ploughed our budget into a bag for life. We had customers queuing around the block for our bags; of course, they were packed with our details and other promo items.
83% of people have purchased from companies that gave them a promotional gift.
We had marketers saying what genius idea and the orders flooded in, new relationships started, and it gave us warm leads to stay in touch and convert after the exhibition.
We wanted to share with you our top tips for creating an exhibition bag that will have your brand in front of everyone at your exhibition without spending a fortune on VIP stands. If you'd like to receive our top tips directly to your inbox then why not subscribe to our monthly newsletter?
Our first big top tip is having a really good exhibition bag that will be part of your giveaway strategy.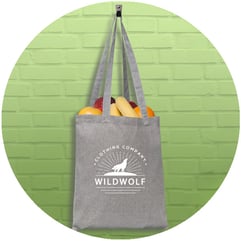 When selecting your exhibition tote bag, think about being different. It's an excellent time to go bold, add a design so that people use it not just as a work bag and go big - the chances are that they stuff all the other bags into yours whilst walking around.
If you are using a recycled bag made of bottles - say that in the design - customers will love that you have done that, and it's great to shout about it too.
Our stand out exhibition bag
One bag that particularly stands out is the award-winning Newchurch Recycled Cotton Tote Shopper, and is one of the most sustainable shoppers currently available. The fabric used to manufacture the shoppers is 70% recycled cotton from offcuts, waste cotton and towels, blended with 30% polyester (PET which is recycled from plastic bottles), for extra structure.
Due to it's totally recycled nature, every bag and batch will differ, adding uniqueness to each shopper.
Event giveaways products on a budget
Now the world has woken up again, we'll start to see large exhibition events happening again, and we'll feel the excitement of networking face to face again. It's still challenging to get back into that mindset again. You may have reallocated your exhibition budget on other marketing activities and feel unsure about investing in promotional products to give away and uncertain about the return on investment.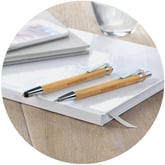 We all have these exhibitions where people want, they grab handfuls, and you watch your £'s just floating away. That's the best time to use the tier system and pop out budget items, so you don't mind people taking handfuls - pens, pencils, trolley coins, rulers and magnets are some of the best items we have found for this.

Don't think they are going to waste; think about how long they stick around the workplace, and you'll feel good about loading a good customer up with a couple of handfuls to spread around the office too.
Keep the luxury promotional products for customers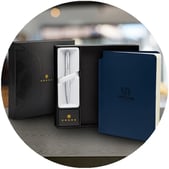 Exhibitions are a great way to network and meet new customers but let's not forget its also a great way to catch up with your existing customers and build on your relationship in an informal setting. This can also provide an excellent opportunity to show your appreciation for their custom and hand out luxury promotional products or high-end corporate gifts.
We also have a massive range of event, conference and exhibition products from pop up banners, demo stands, outdoor A posters. Check out our events and exhibition section here.

Please feel free to contact us to chat about your 2022 event schedule and we'll be delighted to showcase some great products that will get you noticed within your promotional product budget.