Having your company logo or details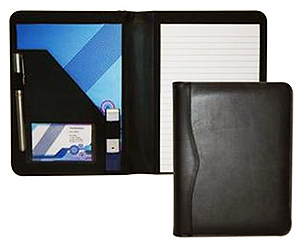 printed onto branded folders is an excellent way of getting your business noticed on a regular basis. Whether you give premium folders to your important clients or want budget folders to give away as business gifts at conferences or trade shows, having your logo or brand printed on a folder is a great way of promoting your company.
What Type of Branded Folders Should We Get?
Well it depends on who they are intended for. Ask yourself...
What is your budget?
Will they be for your reps or office staff?
Are they to be given away at a conference or event?
Will they be for high spending or important clients as premium business gift?
What type of material do you want?
PVC Folders
The most popular branded business folders are made from PVC. This is an inexpensive yet widely used material, used in everything from windows to cabling and of course our humble folders. Due to the relative inexpensive nature of these folders, they make from this a great choice as mass giveaway items at trade shows or conferences. Adding your logo to branded folders is an inexpensive way to get the best impact for your budget. These budget folders are a great option for your company if you are looking to equip your staff with their own corporate branded folders.
PU Folders
A very popular 'all rounder' choice of folder. PU folders are often referred to as leather look folders. They are a quality promotional item that is durable yet have a soft feel and have a high perceived value. PU branded corporate folders are a great choice for any situation, event,conference or branded portfolio they really are a great all rounder and their low cost will certainly help your ROI. There is a reason these are often the most popular folders, their cost over quality is excellent, their perceived value is always high, they have a great, soft feel yet are durable and reliable.
Leather Folders
Looking for a premium quality branded folder? Leather is the way to go. These folders are at the top end and offer an exceptional quality finish and feel. Often given to reps when visiting clients to ensure the company keeps its professional look, even down to the smallest detail. Leather branded folders are also ideal as business gifts for those important clients or to complement a high end/VIP event.
Don't be fooled the innocent nature of the humble printed folder, they are a formidable promotional product.