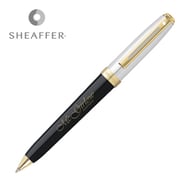 The main limitation when it comes to buying promotional pens can be your available budget, as this can determine the type of pen and quantity you can purchase. The main point to bear in mind is that the more pens you purchase the cheaper the unit price becomes.
The pens also convey your business so they need to reflect your business image across to potential new customers and clients. The main points to consider are:
1. Do you want your logo on the pens, your promotional message, both, or something different to make it stand out?
2. How many colours do you require? This can be dictated by how many colours are in your logo.
3. How many pens do you require? Do you have a niche target audience so a low quantity would be needed or is the target audience very broad.
4. What kind of pen do you want i.e. Eco-friendly pens, Metal pens or plastic pens?
The last point to consider is the Lead Time for production of the pens from the time of a confirmation of your order. The lead time can affect the brands available due to some having quicker lead times than others. We do have a number of pens on a quick 24 hour turn around after approval of artwork, so don't panic if you need them quick, contact us to talk about quick lead time promotional pens.
Just a few points to consider when you're purchasing promotional pens, if you do need any help contact us and we will be happy to help.
Call Us Today: 01623 636602