Who would have thought that simple act of handing out event merchandise would be so last year?
Well the last few months have been different, but turns out that event merchandise is now more effective than ever, just in a different way…
We know visitors attending meetings or events love the haul of merchandise they go home with. You can't escape the feel-good factor of receiving merchandise at an event!
Recently, we have been working with our clients on solving this issue for them. Together we've come up with a solution to ensure that their all-important VIP attendees are still receiving those same warming touches, just like they would when greeted by their team at an event.
Feel good factors for event merchandise
After discussing what the feel-good factors were at events, we quickly set to work creating a totally personalised website for them with a pre-selected group of gifts to enable them to offer a welcome pack to the registered attendees.
As soon as an invitee signs up to the event, they receive a link to the website which enables them to select the gifts and complete the delivery address. We prepare the packs, complete with a personalised note and post straight to the recipient in time for the event.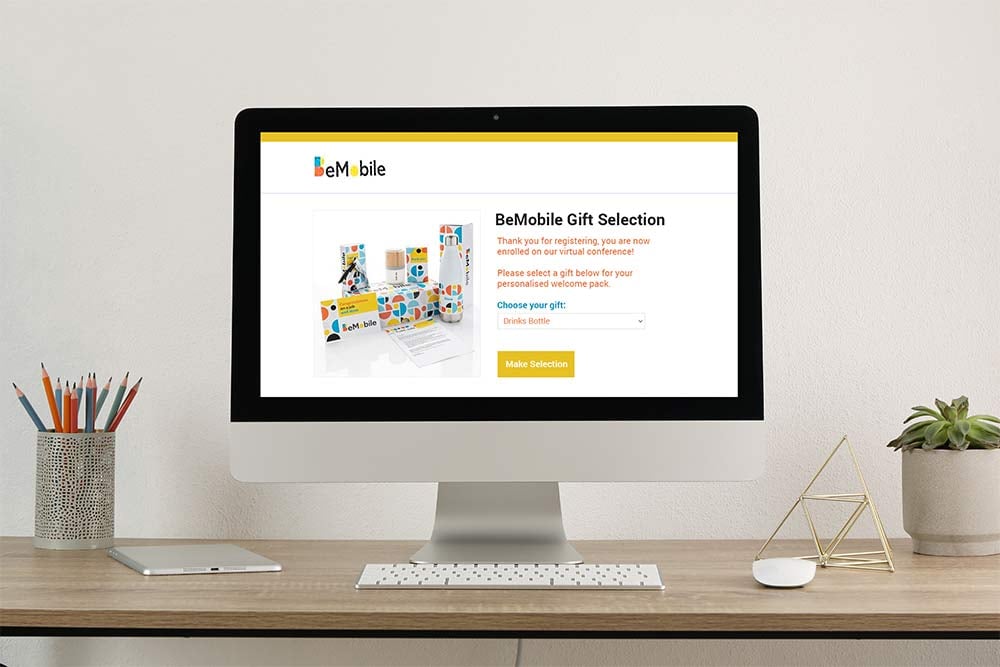 Breaking down barriers
Lots of clients are unable to have that one to one contact with their clients, so we're rolling this out to everyone. Breaking down barriers of getting your name back in front of those that really matter to you.
It has been amazing to see how different teams are adapting it to their own events and for us it is perfect because we still get to produce our branded event merchandise!
It can be as simple as a notebook making the perfect zoom companion, a smart speaker for attending a virtual product launch demonstration, all the way through to fully personalised gift boxes complete with tasty treats.
That personal touch is still guaranteed
So, whilst you may not be able to give the merchandise out in person, that personal touch is still guaranteed. Now, with virtual events you know your audience so it can be totally tailored, no matter how big or small!
A real opportunity to stand out from the virtual meeting crowds and truly leave a lasting impression.