Your merchandise could just be one click away!
If your business uses a range of branded merchandise and has offices spread across the UK, or even the world, we can help to bring your branded merchandise needs together.
How will a web-shop help?
A web-shop can provide a hassle-free, streamlined solution, to help your business or organisation. It will allow users to view and order your company branded merchandise quickly and easily, while securing brand consistency.
When it comes to promotional merchandise, we will work with you to understand your brand. Once artwork has been approved, it can be applied across a range of made to order products.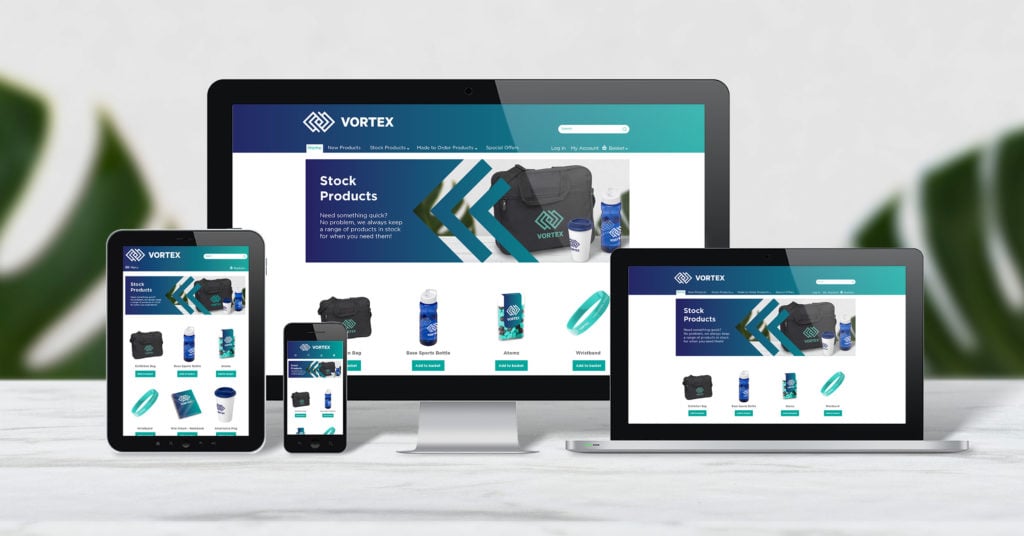 If you're solely responsible for ordering promotional merchandise and receive many requests from various departments, then a web-shop provides a great one-stop tool; taking the hassle out of searching and sourcing for products each time they are needed. You can also share the web-shop link with your colleagues, allowing them to browse the site, choosing from a range of core products. Then, all they need to do is to let you know what they need. Plus, if there's more than one department that requires a specific product, bulk and repeat orders will help to save on costs.
Similarly, if your business has various teams spread across the UK or abroad, then again, a web-shop is a handy solution to have; and this is where an agreed product range becomes more central, offering reassurance and brand consistency across the business. Ensuring your brand and message is portrayed in the right way, avoiding any products that may steer away from your brand and its values. We all know that being consistent with your branding helps your target audience to get to know and remember you; helping you to leaving a lasting impression that will help you to gain loyalty and trust.
Keeping things updated!
Another benefit of a web-shop is that you can see your full product range as and when you need to! If you find something isn't working for your business, we can help to refresh your merchandise, providing new ideas to meet your objectives.
To finish, your online store can be designed to tie in with your corporate colour scheme, offering a familiar and friendly portal.
Did you know?
If your business has various brands under its umbrella, then we can help with that too! While you can keep all your products in one place, it can be tailored so users can just see the products relevant to them!
Let's talk!
To discuss our web-shop solutions, you can call us on 01623 636602 or contact us via the website and we'll get in touch when it's convenient for you.
Don't forget to check out our stock warehousing and fulfilment services too!