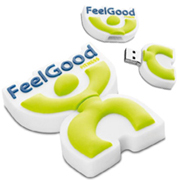 Promotional USB memory sticksare one of the most popular promo items available. That have been used for many years to help promote many businesses with great success. The ability to put your logo on something that is used so widely and so often by many people is a priceless promotional tool. Well times are changing. Don't get me wrong, USB sticks are still the ones to go for, however they have evolved!
You can now create your own personal3D promotional USB stick!
We can take your logo and create a totally bespoke, unique 3D USB drive. No other company will have the same memory stick as you as it will be unique to you. Almost any shape of memory stick can be created. As promotional usb sticks are so popular it really is taking this awesome promo item to the next level.
If you are looking for the ideal promotional item for your next conference or trade show make sure you leave a lasting impression on your present and future customers by giving them a promotional 3D usb data stick!
What are you waiting for? Time to impress em!