Business awards are fantastic to celebrate and inspire your team with a shared recognition to energise employees, raise performance and retain top talent.
Running an internal awards programme brings your employees together and motivates your workforce. Awards are a great way to boost morale by highlighting achievements, and with our range of sustainable and British-made awards, you can be sure they will be proudly displayed in the office or home and not tucked away.
Recognise with sustainability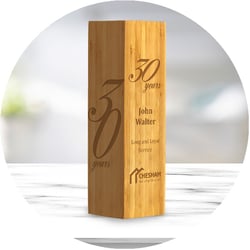 Looking for a unique way to show your appreciation to your team members? Why not consider giving out this bamboo column awards?! This award is perfect for recognising individuals or teams who have gone above and beyond and is also ideal for long and loyal service recognition.
Plus, the hand-finished stained wood design makes a great addition to any office or home décor. Ready to start handing out some bamboo column awards? Read on to see more from this sustainable range.
Check out this Bamboo Column Award here.
An award to showcase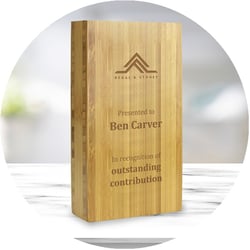 Be the star of the awards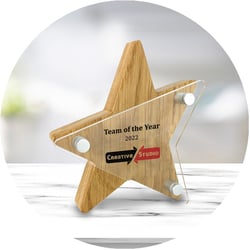 This award has an environmentally friendly, durable and easily printable surface that can be laser engraved or stained for colour.
This makes it the perfect choice if you're looking to give your organization some extra class in its look!
One tree will also get planted for every natural material created, providing sustainable wood supplies.
Check out this Rising Star award here
Elegant with simplicity