We think you are going to be inspired by our top 5 promotional products highlighting bamboo and recycled features.
Showcasing that promotional gift items or giveaways can really
Blame it on the weather.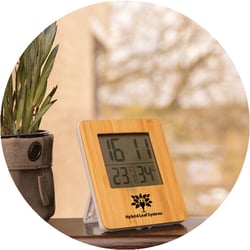 We Brits love to talk about the weather, don't we? No matter what time of year it is – it's always a great conversations starter.
This stylish Bamboo weather station with 3 functions: time/date, indoor humidity and temperature. It's battery-operated and can take pride of place anywhere around the home or office, giving your promotional gift a prominent place and recall all year round.
Check out this stylish bamboo weather station here
We all need a recharger.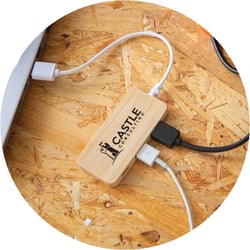 Wireless technology is fantastic! But what comes with it…? Charger after charger.
This dual USB port is the perfect solution to extend the USB ports on your computer. Made from Bamboo, you can guarantee this stylish charger will be a staple item transported everywhere.
Check out this bamboo hub charger here
Stay hydrated on the go.

Tell us you have lived through a pandemic without showing off your newest range of vacuum bottles?!
We all started new habits on the back of the Covid19 pandemic, and one that is sticking around is the ultimate solution for your healthy and comfortable hydration on the go.
This bottle has a unique shape and is available in a range of on-trend colours. All great qualities of a promotional giveaway for any audience.
Check out these trend leakproof vacuum bottle here
Keeping drinks hot and safe.
Perfect solution for keeping your favourite drinks hot with double-wall borosilicate glass and bamboo lid.
Perfect size for tea, latte or cappuccino.
The entire glass is clear, making it an ideal addition to breakfast or afternoon break. A beautiful high-quality look is a perfect gift for your latest event, marketing promotion or new starter kit.
Check out this stylish 250ml borosilicate glass with bamboo lid here.
Perfect solution for keeping your favourite drinks hot with double-wall borosilicate glass and bamboo lid - just that little bit bigger with a 350ml capacity.
With two sleek layers designed to showcase all your favourite drinks, this is a promotional gift guaranteed to make a daily appearance for that 5-minute mindfulness break.
Check out this stylish 350ml borosilicate glass with bamboo lid here.
One bag, multiple different uses.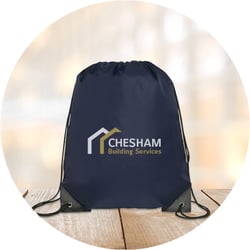 How handy is a drawstring bag? Everyone has one to hand to carry shoes, refreshments, spare jumper – see, we told you it has multiple uses. Available in a wide range of colours – guaranteed to make your corporate logo stand out.
This quality recycled drawstring backpack made from REACH compliant 210d rPET is a cost-effective promotional giveaway starting from as little as £1.18 each.
Check out Kingsgate Rpet Recycled Drawstring bag
here
We hope we have inspired you with our latest and trending range of promotional products. If you would like to visually see how your corporate logo would look on another of our top 5 featured in today's blog then just contact us and our creative team will happily supply artwork. Or if you need any samples or ideas, please give us a call.
I hope you have a fab weekend. X
S x