Wow! It's an all-out 5-star review for the Urban Vitamin Belmont Wireless Headphones from our independent product review panel.
The Urban Vitamin Belmont Wireless Headphone is the perfect way to bring your music wherever you go and enjoy it all day. These headphones are lightweight, so you don't have to worry about being weighed down, but they're also incredibly durable, making them the last pair of wireless headphones you'll ever need. You can enjoy up to 35 hours of playtime - listen for an entire day without having to recharge or worry about missing a beat.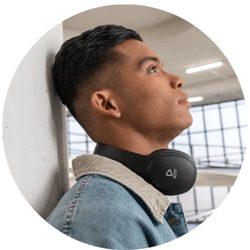 It doesn't just stop there! Not only will these headphones keep you connected and listening to your favourite songs hour after hour,
but we know that comfort matters too. The over-ear design allows them to wrap around your ears perfectly and comfortably. Then fold them up into a handheld size for easy carrying and storage when not in use. Plus if someone calls, pick it up with the integrated mic and answer without ever having to take your headphones off!
But wait - there's more! They are made without PVC and packed in reduced plastic packaging to help the environment.
Enjoy richer sounds than ever before. And thanks to the bass boost button at the side of the headset, your music will sound even fuller without needing extra amplification. With the Urban Vitamin Belmont Wireless Headphone, your music experience never ends!
Available in Black, blue and white with a pad print option to the side of the headphone to showcase your company logo distinctively when used.
Here is what our product review panel had to say:
The headphones are fabulous; they easily connect to my phone, have good quality sound, and the battery lasts well. They also look great, so I'm very pleased with them. I absolutely would like to receive these as a promotional item; they are great headphones, and I will continue to use them, so a great piece of promo as they will be used regularly. They provide value for money and look great; the packaging felt premium. Steve gave them a very easy 5 out of 5.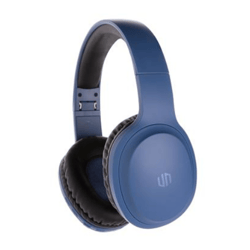 Jonathan told us he usually struggles with over-ear headphones due to wearing hearing aids but didn't have the usual problems. The earphones themselves look great, feel great and sound great. The amount of background noise they cut out was great.
Barbara would definitely buy these and gives the headphones 5 out of 5. She thought the noise cancelling ability was great, and as a grandparent of boys, she's brought several sets of headphones over the years, and none have lasted the course – until these.
They are very comfortable, and adjustment stays in place without the need for constantly tightening the fit. The sound quality is very impressive too.
For the second part of Barbara's test, she deliberately careless packed them in a full rucksack for a train journey, squashed into an overhead rack. They were unintentionally sat on another time and generally not treated well. Absolutely no impact on them whatsoever, and they work as well a month later as they did on the day we sent them to her to test out for us.
If our panels 5 star independent review of the Urban Vitamin Belmont Wireless Headphone has given you peace of mind that this is a great choice for your next premium promotional products then why not contact our experienced sales team on 01623 636602 for a quotation or click ''request a call back' below.