Our trusted panel of product testers have recently reviewed the 15-function tool card for us, and here is what they have to say about this handy wallet-sized gadget.
Barbara sums it up nicely with her feedback: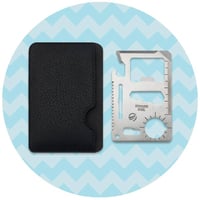 Don't all guys love a gadget? And one that slips perfectly into your wallet, there when you need it.
It's a very unique promotional product – having a little saw on it - it was the first thing I used to cut some rope!
I worried the blade would be unsafe, but it wasn't and still sharp enough to do its job.
The hex tools haven't all been used but are ideal for tightening things on bikes - which we did do while out in the park!
Overall it's a nifty little gadget! It hardly takes space in your wallet but there when you need it. Just remember to take it out of your wallet if you're going on a plane - or it will get taken from you!!
Quite a good price. Most parts are useful!
Steph said although the product isn't relevant to her, it wouldn't be a useful promotional product, but she found the price is very reasonable and the product is well made, strong, sturdy and in a nice case, all compact together.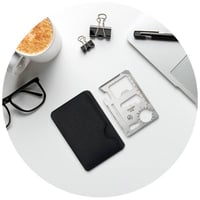 She likes the idea for a product, but she is not sure how useful it would actually be as a tool.
Jonathan mirrors Steph's review and thought it was really good quality, really well made and looks good.
Steve thought it was something a bit different and very useful, so he would appreciate receiving it. It's a handy pocket size, all round a smart little product. He thought it was a fab product! And gave it 5 out of 5.
Jonathan B said it's something I never knew I needed, and it has come in very useful. The size is spot on and handy for bits and pieces and I will be adding it to my 'in car' pack for when out and about.
The cover it comes with is of good quality, protects the tool well and looks smart as well.
The tool itself was good for little jobs and did what was expected. It would be great for kits in vehicles or even for camping.
To summarise the feedback from our product test group for the Saki 15-Function Tool card:
If you are looking for a unique and useful promotional product that will be used time and time again within a price range from £1.42, this function tool card is a great cost-effective branded merchandise when used for the right target audience.
If you would like a quotation or more information, please give our team a call or email.