This month's independent product review captured honest opinions on this Organic Mesh Cotton tote bag. After living and breathing all things promotional merchandise for 40 years, one thing is clear – there isn't a one size fits all when promoting your brand.
From this honest product review, you'll see how important it is to use the right promotional product for the right audience to make the right impact on your campaign and achieve your business goals.
This reusable organic mesh bag is the perfect alternative to a plastic shopping bag.
These bags are a perfect substitute for plastic bags made from organic cotton. The net design allows the content to breathe, ideal for vegetables and fruits.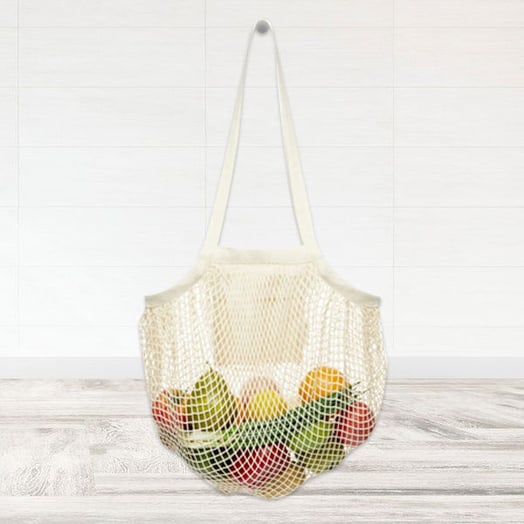 Let's start with the positive features:
Strong and durable – this mesh bag can hold up to 10 kilograms
Sustainable – made from GOTS

*

organic cotton
Reusable – a great product to help go plastic-free and reduce single-use plastics.
Versatile – this bag is great as a beach bag allowing sand filter straight through or ideal for farmers market shopping as it allows your fruit and vegetables to breathe.
Easy storage – reusable mesh tote bags offer a great alternative to plastic bags. The collection of plastic bags under the sink becomes a bag of bags and an eyesore. This one bag can replace the many bags and take up less cupboard space.
Product Review Feedback on the Organic Mesh Tote Bag:
'I will admit that this bag isn't one I would normally go for, but I was pleasantly surprised. It was a decent size for nipping to the shop for a few bits and storing things in the car. The handles didn't cut in when holding heavy objects in the bag, which is always a bonus. I would happily receive this as a promo item, and in fact, it would be great to put other promo goods into to hand out. 4 out of 5 from me.'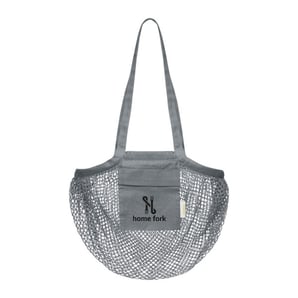 Not all the panel had the same thoughts.
Stephanie wouldn't have much use for a mesh bag, as did Steve. Barbara was impressed with how well it expanded and how secure and robust the bag is—acknowledging how practical and environmentally friendly the product is.
Stephanie said it's not a promotional product she would like to receive and Steve said,'it's not something I would use.'
Why it's important to pick the right promotional product
It's important to give honest reviews on all our products and, it's just as important to choose the right product for your audience. We love to help our customers find the right promotional merchandise that will have the maximum impact on your marketing campaign and help you reach your business goals.
If you would like to see how your company logo would look on this Organic Mesh Tote bag we can provide a free visual! Just contact us or request a call back below.
Source *https://global-standard.org/