What would be your stand-out change if you compare how you worked in 2019 to how you work now?
We do not doubt that working from home is high in the changes made to your work environment. As the working from home or hybrid working trend is here to stay, we look for smarter and healthier ways to work from home.
The Tilt laptop and tablet stand creates a perfect work space and can turn any desk, table or surface into a laptop standing work station. It is adjustable, portable and lightweight – making the Tilt laptop and tablet stand a great promotional product to take to events, as our reviewer Steph included in her feedback. More from Steph and her honest review to come.
Our team at Pellacraft love everything about promotional products, and we still get super excited when a new product drops in our HQ. We will review any new product we offer before offering it to our customers, and we also love asking our panel of independent product reviewers for their honest opinion.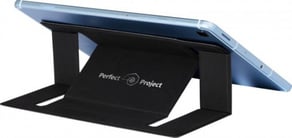 Foldable and compact
Designed to help with heat dissipation
Adjustable into 2 different directions for comfort
Create a smarter and healthier workspace anywhere
We asked our independent product testers their thoughts on the tilt laptop and tablet stand. Here is what they had to say:
Steph found the product to be a sturdy stand for tablets, laptops and small devices, and it was a handy product with a lot of use. It would be a well-received promotional product with a wide audience reach. Simple but effective with quite a bit of space for branding. The product looks smart and packaged well with instructions. It's also lightweight for shows, so great for transporting or sending to customers.
Steph gave an other all rating of 4 out of 5 and thought it was a great promotional giveaway, and the performance was good quality.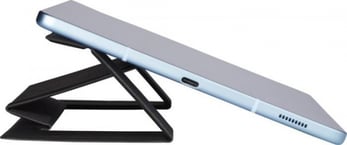 Barbara said, 'When I opened this, I didn't really expect it to do as it was supposed to as it looked flimsy. But boy, was I wrong.
It has made life so much easier - I can pop the tablet on the bedside table to watch things instead of on my knees.
It's a super ingenious piece of kit - Pellacraft has done it again! Found a useful device that we didn't know we needed but now use every day!
It's super value and is in your eye daily for marketing purposes, making it a perfect promo gift. I love mine. This is a 5-star plus.
Steve added how helpful the product is but had concerns about the position of the vent for cooling, and for that reason Steve gave the product a 3 out of 5 rating.
Jonathan gives the tilt laptop and tablet stand a 5-star rating and found the stand particularly great when charging an iPhone.
We hope our independent review of the Tilt Laptop and Tablet stand helps you make an informed decision about your next promotional product order to support your up-and-coming marketing campaigns.
If you would like a quotation or visual to demonstrate how your brand would look on this Tilt laptop and tablet stand, contact our experienced sales team on 01623 636602 or click ''request a call back' below.