Our manufacturers need our support now more than ever. Over the last decade, we have seen a massive increase in products, available back in the UK promotional market. With lots of investment being pumped into the research and development of new products to expand the ranges.

I am pleased to feedback that the ranges are expanding each week at the moment, and the more we support these hard-working manufactures, they can invest, and the selection will grow and grow!
Here we look at the Top 10 UK made promotional giveaways!
We are keeping hydrated!
Since its introduction, it's been the most popular bottle for the price, size, speed, and print area!
A classic style for all ages, the H20 Treble is a single-walled sports bottle with a ribbed design and features a spill-proof lid with a flip-top and comes with a massive volume capacity of 750 ml!
It is made in the UK and comes packed in a home-compostable bag.
Made from PET Plastic, 72% PP Plastic and 17% SAN Plastic and 11% PE Plastic.

You can mix and match colours to create your perfect bottle for your company branding.
Talk to us about the colour range available!
We're working hard to join the circle of reusing waste back into products, then being recycled and reused again and again! Ending single-use plastics, for good!

Follow the journey and read more about rPET here.
Your message, sticking around!
Next, we have the good old promotional sticky note pad! Everyone uses sticky notes, they come in various sizes but the A7 sticky mate is the most popular size.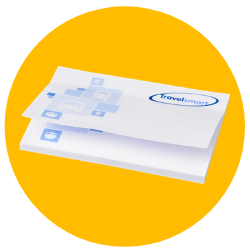 The printed sticky note pads are not only handy but look great with a really nice full-colour design or a simple printed logo.
You can have a different print on each sheet to help communicate your message and stay at your customers' fingertips.
Available in various colours, some sizes and colours are available as FSC paper.
Most pads come with 50 sheets, but we can tailor the number of sheets to your budget or design. We have a wide range of shaped printed post-it note pads and can support you with the design and fulfilment of your pads so you can get the most from them!
Check out the A7 sticky note pad!
Taking and making notes!
If you have never seen this notebook in the flesh, you are missing out! It oozes quality with its soft-touch finish. It's made of PU but has a genuine leather look and feel.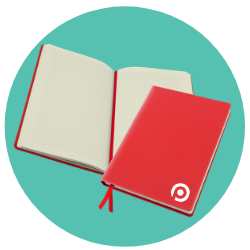 This A5 Casebound Notebook is made to order in the UK and finished in soft-touch Belluno PU.
Belluno is available in a choice of 22 colours, each with a unique colour change when embossed, making your branding distinctive and accurate even in the finer detail.
The product features include Case Bound Notebook, 96 sheets, 192 pages of 70 gsm cream paper, Choose from Lined, Squared or Plain Paper.
Paper is certified as sustainably sourced from a managed forest where trees are renewed to ensure a constant supply with no new deforestation.
Vegan REACH compliant cover and comes complete with a
Ribbon Page Marker.
We can make this A5 notepad totally bespoke, add in full-colour pages, add trims and mix and match finishes, so your notebook stands out from the crowd!
Check out the A5 Belluno A5 Notebook!
Let us grow together!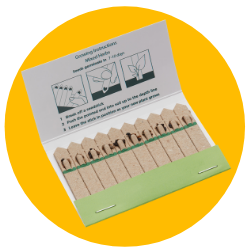 More and more customers are going down the 'Let us grow together' message and sending out seed packs to customers and employees of mini trees or sunflower pots as they are nice and handy for the post, and of course, some customers and teams have been at home and able to watch them grow!
They make a great giveaway; they are good interaction and also helps out our bees and our planet!
The popular Green & Good Seed Sticks come in a matchbook with 10 biodegradable seed sticks. These can be branded full colour on both sides to add a great design and a message about your company's sustainability plans!
Options include Mixed Herbs, Mixed flowers, Forget me not, Alyssum, Snapdragon, Babies Breath or Love in a mist.
Also available in a mini version. For alternative seeds, please contact us for more information.
Promotional merchandise made from 100% waste!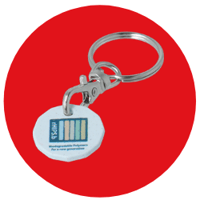 It is tiny but extremely powerful as a giveaway! The UK made Trolley coin is one of our fastest moving giveaways. They are great for every industry and as cheap as chips, so you can give them away in the 1000's!
Imagine your printed logo on someone's keyrings, day in day out and all for less than 40p*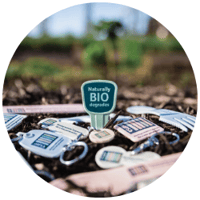 The £1 trolley coin keyring comes with a metal snap hook fitting and is Made in the UK from rHIPS.r 100% waste, creating five new colourways inspired by nature and is digitally printed in full colour as standard.
A travel cup changed our world!
The Americano was revolutionary for us (and still is)! It's all we had ever asked for, and our prayers were not only answered but completely smashed with the possibilities that this UK made thermal cup has to offer.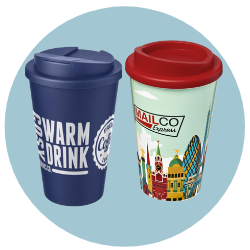 It's evolved over the years, and this printed insulated tumbler now comes with a secure twist-on spill-proof lid. The lid clips closed better to prevent spillages and is manufactured without silicone for a fully recyclable mug.
You can mix and match colours to create your perfect mug; contact us for additional colour options.
The Americano is available in Standard, Recycled, Spill Proof, Midnight, Pure antimicrobial, Grande and Brite (full-colour designs)!
You can literally take this mug anywhere, and it always looks great!
Check out the Americano Range!
Pencils made from recycled CD Cases!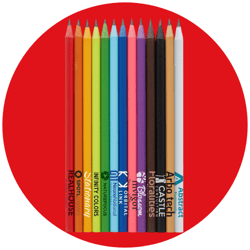 These UK made pencils are available in 13 popular colours and are made from Recycled CD Cases. They look great with a printed logo and message.
Ideal giveaways for events and conferences or suitable for hotels, venues and schools.
Express service is available in 48 hours (1 colour only Max 2000 pieces).
Click here to view the Recycled Pencil.
On the move protection!
It's been around for years, but funnily enough, in the last 16 months, it's had a massive jump in sales and looks to be around for the long term!
We've all become more germ conscious, the things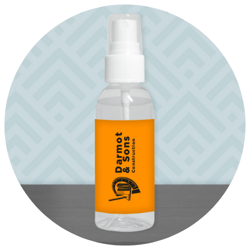 that we would do without a second thought - shopping trolleys, birthday cake candles (especially children's) and shaking hands.
The 50ml hand sanitisers have been a firm favourite. It comes with a liquid hand sanitiser containing 75% alcohol*, which is the World Health Organisation (WHO) recommended formulation. Currently, the only known effective means for quickly and efficiently inactivating a large range of potential microorganisms.

*World Health Organisation (WHO) recommends a formulation of between 60% and 80% Alcohol.
Click here to view the 50ml hand sanitiser.
Sweet treats!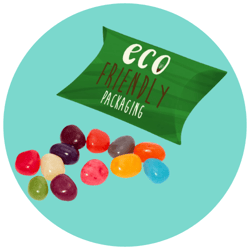 We all love a sweet treat, especially whilst you are at a conference. It's just that little sugar pick me up that we all need and this Eco Small Pouch Box containing Jelly Beans from the Jelly Bean Factory®.
The filling is scooped directly into the box, and not only are they made in the UK, the box is also made from FSC Certified card too and can be recycled or composted when the yummy jelly beans are all gone!
Click here to view the Eco Jelly Beans.
Your logo, just hanging around!
Lanyards are popular for conferences and events, team welcome packs and staff ID's.
Our UK made printed lanyards can be turned around in a matter of days rather than weeks!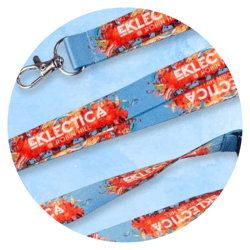 Using digital technology with eco-friendly inks and material, our lanyards are manufactured using the dye sublimation process, providing consistently high-quality full-colour imagery at a competitive cost.
We always recommend a safety break clip; health and safety first!
Our team can help with the designs and we have produced some great ones. Make your lanyard stand out from the crowd, especially the ones worn every day!
Click here to view the lanyards.
Here are just a few of our UK made best selling products. We have 1000's of more options that you can have, from awards, badges, coasters to t-shirts, bags and folders! Call or email the team today to discuss your options.
We've developed a whole new UK made category and will continue to add products in here.