Corporate Birthday Kits
We all know we need to promote our businesses and put our brand in front of customers and suppliers to stay one step ahead of the competition. But what about employee engagement and encouraging staff loyalty? Let's start with providing a corporate birthday gift for staff on their special day.
Employee Engagement Solution
Our customer came to us to request a similar employee pack solution we already produce for them, but they asked for a sweet treat and a card to wish employees a Happy Birthday.
Our promotional experts developed a system for Experian that makes their employees feel special with a small gesture for their birthday that automatically happens from a spreadsheet our Pellacraft team works from.
We make birthday kits automatically happen each month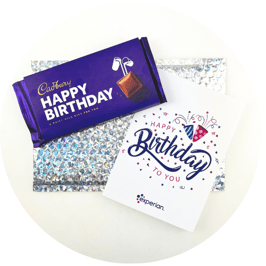 We keep the stock at Pellacraft HQ and communicate monthly with Experian about the packs to be sent out. When the supply runs low, we flag with Experian and restock when needed.
Well done, Experian; it's a great initiative to keep employees feeling special!
We work closely with HR leaders and understand the benefits of supplying your employees with promotional items they will love and use. You're sure to make them feel appreciated, understood and happy.
Your options for employee packages are bespoke.
We can help develop and implement packages for wellness, culture and employee engagement. Available with mix-and-match options if you want different welcome packs for various roles. We can personalise, stock and fulfil from our head office and let you know when you are running low on stock, and we can restock for you.
Plus, if you don't 'do standard' then our graphic design team can add a bit of flare for you on any of our products and packages.
Check out our dedicated HR section for more ideas on well-thought-out branded products that reflects your message and what your business represents. Or contact our experienced sales team to discuss your requirements with us.