There is no avoiding it. It happens every year, at the same time every year, some love it, and some hate it. You may have guessed by now, but we love it!
And we love promotional products, so in this week's top 5 we are merging our two favourite things and bringing you 5 beautiful Christmas promotional products made from recycled and bamboo material.
Gorgeous Statement Snowflake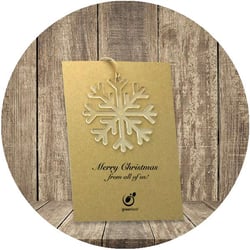 The snowflake truly reflects Christmas time. They can be hung on the Christmas door handles or kitchen doors – it's Christmas we can spread snowflakes everywhere.
This recycled acrylic snowflake is presented on a backing card with your branding message and logo printed, making it a promotional gift guaranteed to make a great feature within the home.
Check out this gorgeous snowflake
Oh Christmas tree, oh Christmas tree, how lovely does your branding look!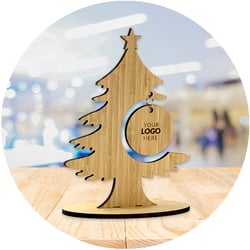 Now, most of us are back at our office desk or at least now have a great comfortable workstation set up at home.
This 5mm thick bamboo tree is small enough to make a great feature on the desk or a kitchen worktop. A caramel finish and hanging bauble attached featuring your logo make a great addition for Christmas gifts to customers, prospects, or suppliers.
Check out the lovely branded Christmas tree here.
Who doesn't love a cute Reindeer?

We were wrong – the Christmas reindeer truly reflects Christmas time. Measuring only 156 x 230mm, everyone can make room for this amongst the Christmas display.
Designed to be an elegant ornament, it will no doubt make a feature year on year.
Check out this cute reindeer here.
Hanging star with a difference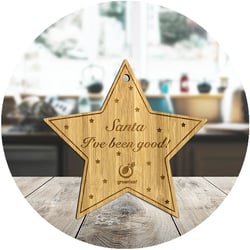 This large bamboo hanging star with a caramel finish is such an elegant Christmas promotional gift that it may appear around the home way into the new year and beyond.
Chic and Stylish Christmas Star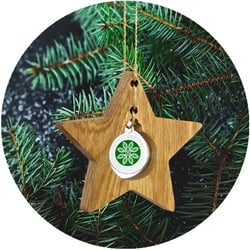 As a 19mm oak hanging star, it makes a statement with a recycled acrylic bauble to feature your logo to create a stylish and chic statement makes a great product to represent your company in the homes of your customers, staff or suppliers.
Check out this stylish oak hanging star here.
In a world where we are stepping further away from the 80's plastic hanging ceiling decoration (as much as they looked fabulous, we can't shy away from the rise of the eco-conscious consumers. Why not lead the way and spread some joy in the form of sustainable and recycled products.
Check out or other blogs showcasing Christmas promotional product ideas for the home here.
We'd be happy to supply the artwork to help you visually see how great your brand and logo would look on these sustainable Christmas decorations.
For more details on any of the products, simply click on the links, or you can contact us for a quotation.
Have a great weekend!
S x