Every single year we look forward to hearing about what shades have been recognised as the Pantone Colour of the Year. Whilst these shades are not the only option that you have for fashion, interior design and a whole lot of other things in-between, the truth is that they do have a huge part to play in inspiring many things over the next few months.
They have been around for more than 20 years and their colour choices have influenced many things, including product development and also the purchasing decisions that many industries make. Of course, it makes sense of these colours fit in with fashion interior design and home furnishings. But, you may not even realise that the Pantone Colour of the Year actually will be seen in product packaging and graphic design choices too.
2020 has been a bit of a strange year, so many things changed and our idea of what "normal" looked like has been altered for a considerable amount of time. In fact, it seems even Pantone decided that for their changeover between 2020 and 2021, that it was time to make a change.
Rather than awarding one shade the Colour of the Year, they have actually given it to two.
What are the 2021 Pantone colours?
The two shades that have been chosen are Ultimate Gray Pantone 17-5104, a neutral and deep grey shade. As well as Illuminating Pantone 13-0647 a bright yellow that is radiant with colour and warmth.
How do they work together?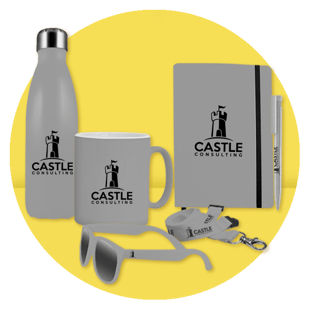 You may not always think of yellow and grey as being two shades that work together; but with their visual presentation on their website, Pantone have shown that they really can.
Ultimate Gray is a shade that is practical and solid, it signifies deep thought and fortitude. Strength and perseverance.
In contrast, the Illuminating Yellow shade is one that is warm, it is happy and it is optimistic. It signifies positivity and the ability to always see that there is hope out there if you look hard enough. Friendly and sunny, it is a way to brighten up any space.
The idea of these two shades coming together is that whilst things are hard at the moment, we know that there are brighter days around the corner. We can look forward and see the future; which is a key part of the human spirit, beautifully represented in the colours.
Bring Pantone to your promotional gifts

Now, we know that promotional gifts are often well received regardless of their colour; but that doesn't mean that you can't take inspiration from current colour trends when it comes to treating staff and customers alike.
We have a variety of products available on our website which fit into the Pantone Colour(s) of the Year and show just how beautiful these shades can be, alone and when brought together. If your brand fits with these; it's a great time to really shout about it and take some inspiration!
So, what are you waiting for? Be inspired to bring a touch of colour to someone and make it the best colour of the year no less!