We are very proud and delighted to announce that we are celebrating our 40th anniversary as Pellacraft.
To mark the milestones and challenges of the last 40 years, we will be sending out thank you gifts to our customers and suppliers past and present.
As a team, we were delighted to be able to celebrate together by enjoying a lovely meal at the local Lakeside Restaurant, Nottingham, along with office celebrations that include cake and champagne.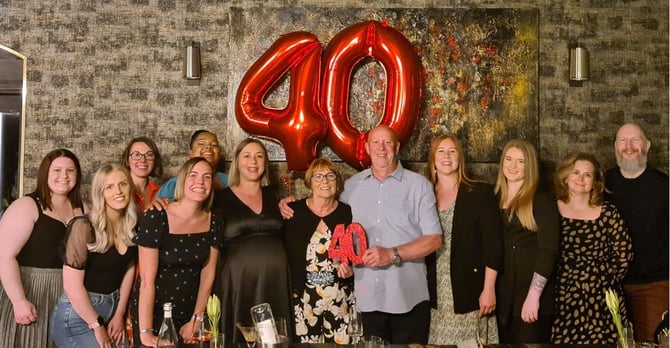 'The last 40 years have given us plenty of reasons to celebrate, said Sam Pella, Managing Director, Pellacraft. Our company has evolved over the last 40 years. It was initially started by my dad setting coal resin into jewellery from our garage back in the coal mining days. He would then go around to the pits selling jewellery and showing the coal pieces off, whilst our mum - Rosemary, would host jewellery parties.
They were selling more and more, and, one day, on a visit to the pit, my dad was asked if he could get some pens with the pit's logo printed on the side. " Of course!" he declared, without really having the faintest idea where to start. He rang Parker, and they said it was something they could help him with. That's where the promotional items started, and Pellacraft was born in 1981.
When I was about six, my younger sister Nicola and I did out first exhibition – at the Blackpool Winter Gardens. We had our little stand where we would polish coal offcuts, put googly eyes on them, and sell them for 20p. That was our first job, and we've continued to be embedded in the company since, now in senior director roles but still very much hands-on."
Pellacraft Then and now
.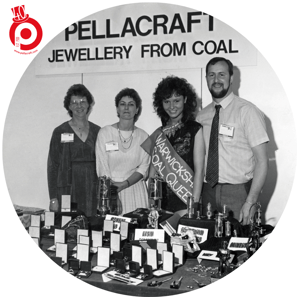 In 1994 founders Rosemary and Stephen moved into one room at Hermitage House, Mansfield. They now have the whole building. Their daughters Sam and Nik joined the family business straight after leaving school and never looked back. Most of the business is built on referral, going right back to contacts from the old coal days.
They've worked hard to branch out, build a supply chain and a solid reputation for reliability, quality and leaving a lasting impression.
For the organisation's early days, the vision for the future emphasized continuous improvement, growth and quality, along with reliable and trustworthy service. Today the organisation maintains a loyal customer base along with long-serving staff members.
The goals of Pellacraft includes championing the industry and a supply chain focused on sustainable materials to respond to the rising demand from the eco-conscious buyer.
Throughout the years, Pellacraft has continually developed its internal systems to enable diversification and meet the needs of the ever-changing industry that, after an unprecedented 18 months, is on the rise again, as the enthusiasm for events starts again.
Pellacraft's ruby year!
Thoughts from Founder Steve Pella: "I always hoped Pellacraft would grow into the business we see today. Over the years, we have had amazing support from our customers and employees. This has helped get us to the stage we are at today.
Letting my daughter's take over the business wasn't difficult. It was an easy decision because I've watched Sam and Nik learn and gain experience from being involved in every department since they first started. I was confident in their ability to take the company forward.
It's very important it has remained a family business. We can continue to offer our customers the continual level of service and support that has been the hallmark of our success for nearly 40-years. We've been involved with many industries, organisations and leading companies and have built an excellent reputation with our customers, which is what it's all about.
I am very, very proud of the girls, of their values and work ethic, and the high standards they set. Like me, they are passionate about the business and giving the customer exactly what they want. It's comforting to know it remains in good, safe hands. Their combined 50 years of experience, knowledge and expertise within the promotional industry leaves them in great shape for taking the business into the next stages of its life. I can't wait to see where it takes them."