Here at Pellacraft, we are always looking for ways to reduce our carbon footprint and be part of the solutions to create a healthy environment for the future.
This includes working alongside suppliers who consider the changes they could make to reduce our impact on our climate.
This is why we were delighted to hear about Senator Pens' commitment to a healthy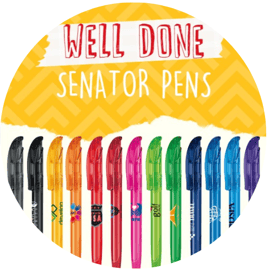 environment and how it plays a significant role for them. They are no strangers to making eco-friendly changes and pay special attention to sustainable materials and production processes, ecological compatibility, waste avoidance and recycling.
It's the small steps forward that make a big difference.
They decided to review their packaging procedures as part of their sustainability goals. As a result, from the 1st of September, the Senator Pens will be bulk packed in cardboard carbons as standard.
They have used biodegradable bags for several years but believe that cardboard is far more environmentally friendly.
Let's explore our Senator Pen's range.
We all know that feeling of guilt when we have to use yet another disposable pen - but now, there's a solution!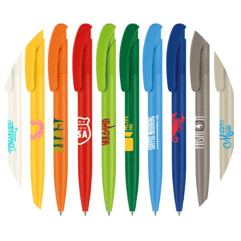 The Senator Nature Plus Ballpen is made from biodegradable plastic so that you can use it with a clear conscience. It's the perfect choice for eco-conscious conferences, events or product launches - show your commitment to the environment and your brand message at the same time.
This ballpen is not only good for the planet but also writes smoothly and effortlessly. The comfortable grip means you can use it all day long without fatigue setting in. Choose from a range of eye-catching colours to really make your brand stand out.
Do your bit for the planet with the Senator Nature Plus Ballpen - it's a winning choice for any organization that cares about sustainability.
Are you looking for an affordable, high-quality ballpoint pen that will make your brand shine?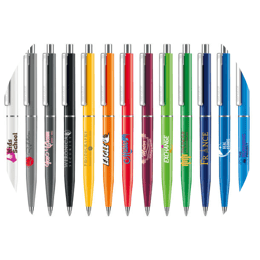 Look no further than the Senator Point Polished Plastic Ballpen! Made with a polished plastic finish, this pen offers brilliant branding possibilities at a fraction of the cost.
Each Senator Point ballpoint pen is fitted with a Magic Flow refill for a smooth, consistent writing experience. Plus, you can choose from 13 bright, vibrant colours to customize each pen to match your brand identity.
And for extra personalization, add your business logo or design to create a truly unique promotional product.
If you have any questions about Senator Pens or you'd like to explore promotional products more then give our experienced sales team a call on 01623 636 602 or contact us here.