Workplaces are planning for the return of employees. I can't wait to have the team back together, we have a buzz when we are bouncing ideas and issues off each other, and some of our best ideas are the ones that evolve when we're sharing information.
It will be daunting for colleagues, especially those that have been away from the workplace for over a year.
Whether you are planning collaborative meeting spaces, a hybrid of working from home and the office or a full return to work, we have some great products that will make the team feel comfortable and, more importantly, remain covid aware in the workplace.
Here are our top picks that have worked well in our workplaces:

Flexi Sanitiser Station Mat
It's a good-sized, 440 x 298 mm, slim design 2mm mat with a print to keep a visual reminder to sanitise hands and workspaces. It's water-resistant and wipes clean to protect your surfaces from the hand gel. Also available as a desk mat. You can mix and match the colours and come branded with your logo and the sanitiser information.
Click here to view the flexi sanitiser station mat

Contactless Sanitiser Stand
By far the smartest sanitiser station I have seen on the market. We had a delivery here, and we still have one in the office. It's a showpiece, a very study station. By no means the cheapest but this one you will not have to buy twice. Standing at an impressive 1.6 meters high, the free-standing station allows for dispenser placement without the need to drill walls. It comes complete with a 1200ml capacity gel pump dispenser, touch-free with an automatic sensor, and is battery Powered. The stand is delivered assembled and requires dispenser attachment only.
Click here to view the contactless sanitiser stand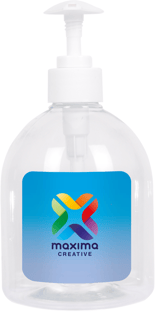 Workplace pump gel bottles
This handy 500ml bottle is great for desks and common areas. The pump bottle comes with UK made gel hand sanitiser, an active substance intended to make harmful organisms like bacteria and viruses, including COVID-19, inactive.
We have these dotted all-around the office, on entrances to different rooms as a constant reminder to sanitise when entering other rooms.
Click here to view the gel pump bottle
Test and Trace pads
We've spent millions 😉 developing this test and trace system; the good old fashioned pad. Any visitors to the workplace, no matter how fleeting, can fill in this easy system, and you have a responsible record.
The pad is prnted with a simple form, this pad designed to help the NHS Test & Trace service in the event of a local Coronavirus outbreak. A perforated tear-off slip for the visitor to retain with your details printed at the base of the pad.
Click here to view the test and trace pads
3 ply face covering to WHO standards
Our policy here is to wear a face cover when not at your desk, so any communal areas and walking around it's 'mask on' time! It's didn't take us long to adjust, and everyone respects that it's another step to keeping us all safe in the workplace.
We worked with a UK manufacturer to exclusively develop a 3 ply face covering that complies with WHO standards guidance for layer and materials.
It has a hydrophobic outer layer made from 82% polyester and 18% Xtra life lycra, then coated using C6 FC approved for face-covering use. The nonwoven middle outer layer is spun-bonded polypropylene 70gsm, whilst the inner layer is 100% cotton jersey 190gsm.
Washable at 60 degrees (the hydrophobic coating will last 50 washes) and can also be hand dried and ironed at a low temperature.
Please note: This covering is for civilian use only and not intended for use in a medical setting or in environments where the wearer must be protected from gasses and toxins.
Click here to view the 3 ply face covering
We've got 100's of other products available, talk to us today to see how we can help with your team's return to work!
Call 01623 636602 or email sales@pellacraft.com