As a business owner, you know the importance of a strong brand image. You want to ensure that your company is easily recognisable and memorable to your target audience.
One effective way to do this is by using promotional corporate home gifts to strengthen your brand image. In this blog post, we will explore the benefits of using high-quality corporate home gifts and showcase our top 6 products; you can view our full range here: Corporate Home Gifting
Brand Awareness
Promotional corporate home gifts are a great way to increase brand awareness. Giving away branded high-quality gifts with a subtle logo will guarantee people will keep your gifts and use them daily, such as blankets, coffee table games, Round serving trays and serving cutlery sets.
You are creating a lasting reminder of your company. Your clients and customers will use these products daily, so they will be constantly reminded of your brand. This will help to increase brand recognition and awareness.
Professional Image
Investing in high-quality promotional corporate home gifts can create a professional image for your company. Choosing well-designed and well-made items means you care about the quality of your products and services. This can build trust and confidence in your brand and increase customer loyalty.
Vinga Alcamo Round Serving Tray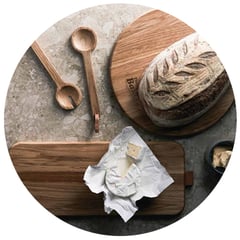 The Vinga Alcamo round serving tray is the perfect serving board to complete a table setting; with your logo subtly added, it exudes refinement and sophistication.
Crafted from FSC-certified oak wood with fine faux leather detail on the round tray to conjure a luxe effect yet hard wearing, making it an excellent go-to accessory for special occasions or everyday meals.

This exquisite round serving tray will be beautifully displayed on kitchen countertops with your logo proudly on display.
View the Vinga Alcamo Round Serving Tray here
Differentiation
Corporate home gifts can also help to differentiate your company from your competitors. By offering unique yet useful items that stand out, you create a memorable experience for your clients or customers. This can set your brand apart from others in your industry and make a lasting impression.
Vinga Lenox Blanket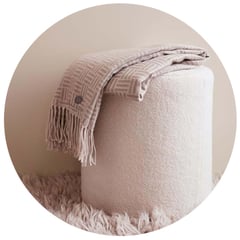 Bring a little luxury into your home with the Vinga Lenox Blanket. The perfect combination of comfort and style with a subtly stunning geometric pattern will add sophistication to any space. With the added benefit of being eco-friendly so you can impress your customers or clients with your sustainability intentions. This luxurious blanket will add a touch of class to any home.
View the Vinga Lenox Blanket here.
Positive Associations
Corporate home gifts are a great way to create a positive association with your brand. When you give away valuable, high-quality items, your clients and customers will appreciate the gesture. This can create a positive impression of your company and foster a sense of goodwill towards your brand.
Vinga Retro Serving Cutlery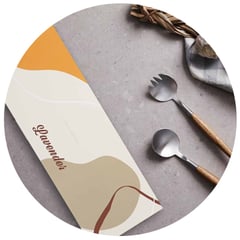 They combine classic minimalist design with well-crafted features making them ideal for everyday dinners or special meals. These sturdy utensils are a great addition to homemade meals.
The Vinga Retro Serving Cutlery comes packaged within an exclusive gift box and discreetly showcase your branding, making it an ideal present when wanting to create a positive association with your company.

Take a look at the Vinga Retro Serving Cutlery here.
Cost-Effective Marketing
Finally, corporate home gifts are cost-effective for marketing your brand. Compared to other forms of advertising, such as TV or radio ads, promotional products have a longer lifespan and can be used repeatedly. This means you can get more exposure for your brand at a lower cost.
Vinga ludo coffee table game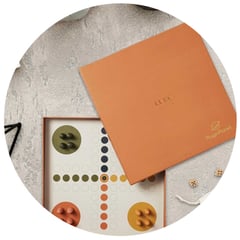 This coffee table game gives a modern and stylish twist on the classic Ludo.
It is beautifully packaged within a crafted storage box that can create a great conversation starter in your living space, perfect for adding an extra touch to any interior style.
Everyone of all ages will enjoy this elegant coffee table game.
Click Vinga Ludo Coffee Table Game here.
Corporate Home Gifts
In conclusion, promotional corporate home gifts are a powerful tool for strengthening your brand image. Investing in high-quality items can increase brand awareness, create a professional appearance, differentiate your company, create positive associations, and engage in cost-effective marketing. If you are considering using promotional products to promote your brand then give our experienced sales team a call today.