If you were asked, 'what brand of pen is the best-selling in the world?' What springs to mind? If you said BIC then you are right.
Launched in 1950 as the first high-quality, affordable ballpoint pen and now the best-selling pen in the world.
BIC pens are part of our daily lives, and it's challenging to go a single day without seeing one! This is a true testament to how well they're designed. Imagine the longevity of a promotional BIC pen?!
Let's explore how remarkable the BIC promotional pen can be:
Versatile and stylish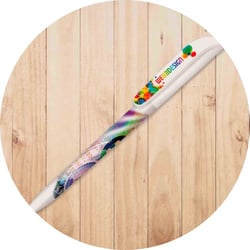 Get ready to show your creativity with the new BIC® Super Clip Ballpen! This pen delivers smooth lines and ultimate precision for fun projects at home and work.
Writing has never been more enjoyable, thanks to its comfortable grip and unique tip design. And if you love colours, this is exactly what you need - it comes with two different ink colour options. Thanks to its ergonomic design, this pen is perfect for those who want a stylish and functional pen.
Whether for taking notes or unleashing your full creative potential - the BIC® Super Clip Ballpen is here to help you get the job done! Get yours today and discover endless possibilities!
Check out the BIC Super Clip Ballpen here
Super soft & sleek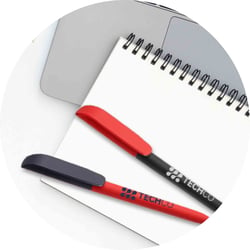 Introducing the BIC® Super Clip Soft - a pen so soft and smooth you'll never be caught without it. Whether you're jotting down notes or keeping track of those pesky to-dos at the office, this is the pen that has your back.
And not only does it write with ease and comfort, but it also looks pretty chic! Its sleek barrel and clip design will make you a star wherever you take it. Plus, who doesn't love the convenience of a twist mechanism?

Let yourself enjoy every writing experience with a BIC® Super Clip Soft - get yours today fully branded with plenty of space for your logo to stand out.
Check out the BIC Super Clip Soft pen here
Style with sustainability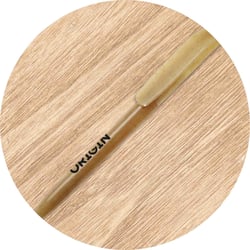 Get ready to revolutionise your writing game with the friendly BIC® Super Clip Origin Pen! Our pen is made from natural materials like wood, stone and other recycled materials, giving you a stylish and sustainable writing experience. Not only are you reducing your environmental impact by using our pen, but you can customise it with a one-colour screen print of your choice to add an extra touch of personality.
We understand that sustainability is essential to you, so we are delighted with BIC®, going above and beyond by using green features that reduce unnecessary waste. From the clip to the barrel of the BIC pen, no petroleum, oil or fossil fuels were used in production—*excluding the cartridge, of course! So why not make the switch today? Get ready to experience effortless style and ethical responsibility when you write with BIC® Super Clip Origin.
Check out the BIC Super Clip Origin Pen here
Dazzle & Glace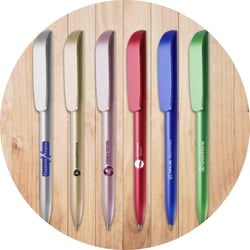 The new BIC® Super Clip Glacé is the perfect pen for anyone looking to make a unique statement! Not only does it feature a sleek and stylish design with six glamorous colours to choose from, but it also comes with a personalised barrel that helps you distinguish your pens from everyone else's. But don't let its beauty fool you; this pen means business too - equipped with an easy twist mechanism, you'll be able to take your notes and sign documents without any hassle.
The lightweight design and its modern style make the Super Clip Glacé the perfect choice for any heavy writer on the go or stationery enthusiast. Plus, it will make your brand turn heads wherever you go! So why not add some sparkle and pizzazz to your promotional pen order today and order the BIC® Super Clip Glacé.
Check out the BIC Super Clip Glace here
Bold & creative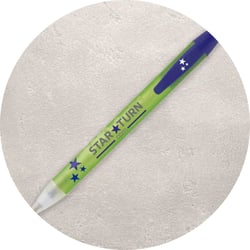 Are you looking to make a statement with your business? Look no further than the BIC® Wide Body™ ballpen! This pen is the perfect way to express yourself and show off your brand. With its bold design, there's more than enough room for even the extensive and intricate details of your message.
You can also choose from various custom options to make your pens stand out! Select from multiple colour schemes and designs – with unique logos, imprints, and even ink colours. Your creativity and style will surely capture new customers.
Made with high-quality materials, this trusty pen is durable – so you can use it time after time and be sure that your message is effectively communicated each time.
Check out the BIC Wide Body ballpen here
Simple & reliable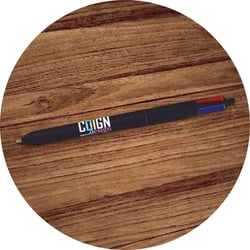 The new Bic 4-Colour Ballpen is the perfect companion for extra efficient writing! This multi-functional promotional pen offers reliable use and four ink colours to simplify your scribbling. Get all the vibrant hues you need in just one pen! Choose between black, blue, red, or green ink.
The Bic 4-Colour Ballpen will give a jolt of fun to any activity. Whether you're taking notes in a meeting, doodling on your notebook, or adding creative highlights to your artwork, this nifty little pen is right there with you. Thanks to its slim body, it fits comfortably into any pocket or bag. Plus, it's perfectly sized enough so that you can write without fatigue – no more cramped fingers!
Check out the BIC 4-colour Ballpen
Professional & comfortable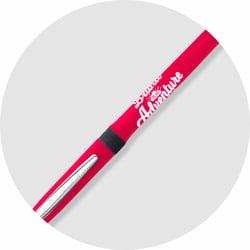 The BIC grip roller with chrome clip is a perfect way to show off your business logo! With a large branding area full of possibilities, you can ensure your brand is seen. This pen sports a sleek chrome clip with an array of stylish colours, including pink, orange, blue and yellow.
But beyond its professional look and feel, there's an additional benefit – this pen offers the smooth glide across the paper and fast-drying ink that our hands deserve. Comfort shouldn't always be sacrificed for corporate style, and with this BIC® Grip Roller with Chrome Clip, you don't have to. Let your logo shine brightly in all its glory - brought to you from BIC!
Check out the BIC Grip Roller here
Customisable & eye-catching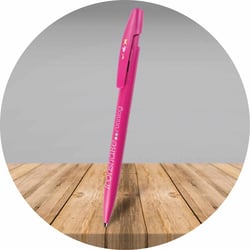 Show off your branding with this BIC media Clic ballpen. With up to four colour prints, plus a choice of 20 clips and primary colours, this customisable pen is sure to be perfect for all your promotional giveaway needs. The Media Clic ballpen looks excellent and will stand out in a crowd.
The possibilities are endless—imagine a bright pink pen with blues and purples mixed motives or something more eye-catching like an orange clip with white highlights. Take advantage of this unique opportunity and make your one-of-a-kind design shine through.
This easy-to-make pen isn't just about looking good; it's also incredibly comfortable. With its smooth writing technology, you can ensure each note will be written with finesse. That doesn't mean you have to sacrifice durability - the BIC® Media Clic Ballpen won't smudge, so you don't have to worry about having messy writing!
Check out the BIC Medi Clic ballpen here
The humble promotional pen tops the list of promo items every year when it comes to value for money. It's cost-effective and continues to be essential in developing business relationships, even in a digital age.
Some of the BIC pens featured are available on express delivery and can be available at your event or promotional giveaway within 5 working days. If you would like to receive a visual to see how great your brand would look on any of the BIC promotional pens, you can call our experienced sales team on 01623 636602 or click ''request a call back' below.