With the final push up to Christmas, I think we all could do with help recharging our batteries.
Unfortunately we don't have any human recharging devices on offer today but we do have a great range of charging stations for iphones and android devices with distinctive light up logo features putting your brand at the forefront of the promotional gift recipient every day. Making excellent use of merchandise budget as the cost per use become priceless.
Shine your logo bright.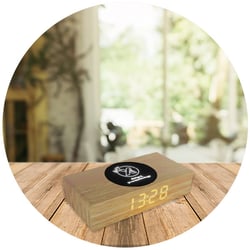 Phones play an essential part in our everyday lives; doing so much more than taking calls makes it easy to wear the battery down but still need it close by to avoid missing any important updates.
This stylish wireless wooden charging station with a time and temperature display will certainly make a statement feature for work stations or kitchen worktops.
Made from recycled PET plastic demonstrates eco-conscious responsibility making it a great promotional merchandise for your logo to shine bright on.
Check out this stylish wireless wooden charging station here
Let your logo shine bright.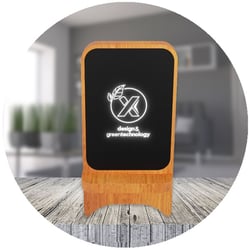 Imagine your logo associated with saving the day and recharging the much-needed phone. This environment-friendly wooden powerbank has a wireless charging function decorated with a light-up logo.
The logo lights up for 30 seconds when the battery is charged and stays lit when charging. With a 3 in 1 cable for iPhones, android and type C, you can be assured it will be a valuable promotional gift used by all.
Plus made from recycled bottles with an antibacterial rubber finished.
Check out this light-up wireless power bank here
Turn up the sound

Now earphones are not a new concept, but the COVID pandemic has undoubtedly pushed them to the forefront of everyone's needs, with online meetings at an all-time high and everyone in the household watching different devices simultaneously.
These wireless earbuds would make a priceless promotional gift used time and time again! Offering premium sound quality with a recharged base decorated with a light-up logo, your brand recall will be seen time and time again.
Check out these light-up wireless earbuds recharge here
Perfect Desk Accessory to keep you charged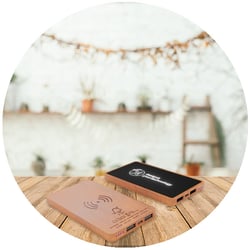 This light-up wireless wooden stand makes an excellent workstation accessory.
Made from rubber and bamboo with antibacterial treatment with your logo as the light-up feature makes the perfect promotional product for brand recall time and time again.
Delivered in a lovely black gift box made for recycled kraft paper will give joy to those gifted to.
Sometimes smaller is better.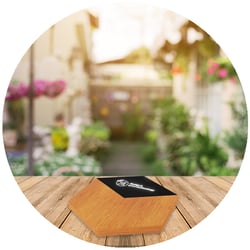 With this discrete space saver wireless charger, there will always be room anywhere for this practical promotional gift to feature.
The unique hexagonal shape is rubber and bamboo with antibacterial treatment and features a lovely light up for your logo.
This is also delivered in a black gift box made of recycled kraft paper.
Check out this hexagonal shape wireless charger
here
We hope you have enjoyed the wireless recharge feature in this weeks top 5 promotional products. If you would like a product range featured in our weekly top 5 just drop our team a note and we'll happily put together a top 5 for your explore.
If you need any samples or ideas, please give us a call.
I hope you have a fab weekend. X
S x