What can you do that's different?
Often we are asked, 'what can you offer that is different to everyone else?', from clients keen to move away from standard promotional merchandise and get creative turning their ideas into reality!

Creating something unique to you and your brand helps the item become sought after, and it all comes from bringing to life your initial ideas!

So, where does the process start? Well, let us tell you about a recent bespoke order we have fulfilled for a client.

Our client came to us with an idea for some earrings they wanted to create to sell on their website as unique Christmas gifts – they already had a bit of an idea in mind of what they would like the finished product to look like and had drawn something they had in mind.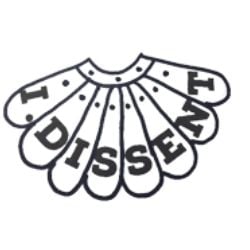 To start the process, we asked the client the right questions that essentially set the foundations for what will be achievable; finding out their thoughts on materials, budgets, how they wanted the item presenting and most crucially, lead times.

We contacted our bespoke manufactures from this initial picture and conversation, knowing through experience who could offer the results we wanted to achieve and create our unique product!

The next step of the process was to move to the quote and visual stage; this particular product is manufactured using High Impact Polystyrene. We offered the customer a lovely backing card for the final presentation, so we got to work on pricing and proofing! When something is bespoke, more so than ever, you want to make sure it is 100% how you want it, so this can take many tweaks with artwork, but that is what we are here for!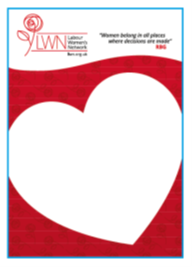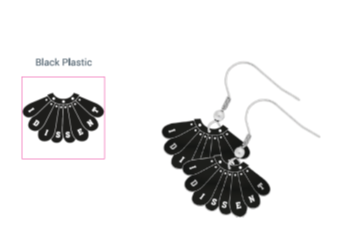 As soon as the proofing and pricing are approved – we move to the exciting part, getting the wheels in motion for the real thing!
You can see an idea coming to life
We had a tool mould produced to get the shape of the earring correct so that it can take the screen print. Below is the process from left to right, the tool, the finished moulding while still in the sprue, and the first earring de-sprued ready to be printed, assembled and packed onto the backing card!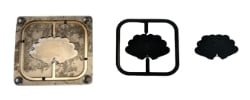 Once production was complete, we received the order, and they went through our quality checking process.
Stocked and fullfilment via the webshop
The earrings were then photographed, ready to be added to the client's webshop, the stock added and prepared for resale! They flew out the door because they are so unique in their design, and message stock wasn't going to stick around for long. We picked and packed orders, sent them on their way to the new home and received lots of positive feedback!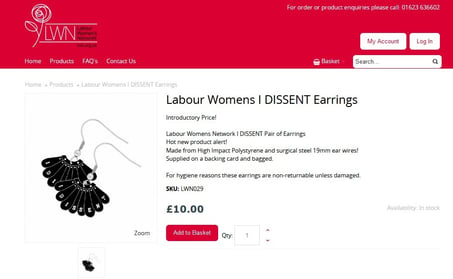 Our client is really happy with the final product, and so are their customers. Which is all we ever want!
Call the team today to discuss your bespoke promotional products on 01623 636602.