If you don't know us already...
At Pellacraft, our core values are ingrained in everything we do from the services we offer, to the way in which we conduct ourselves with customers and working alongside each other.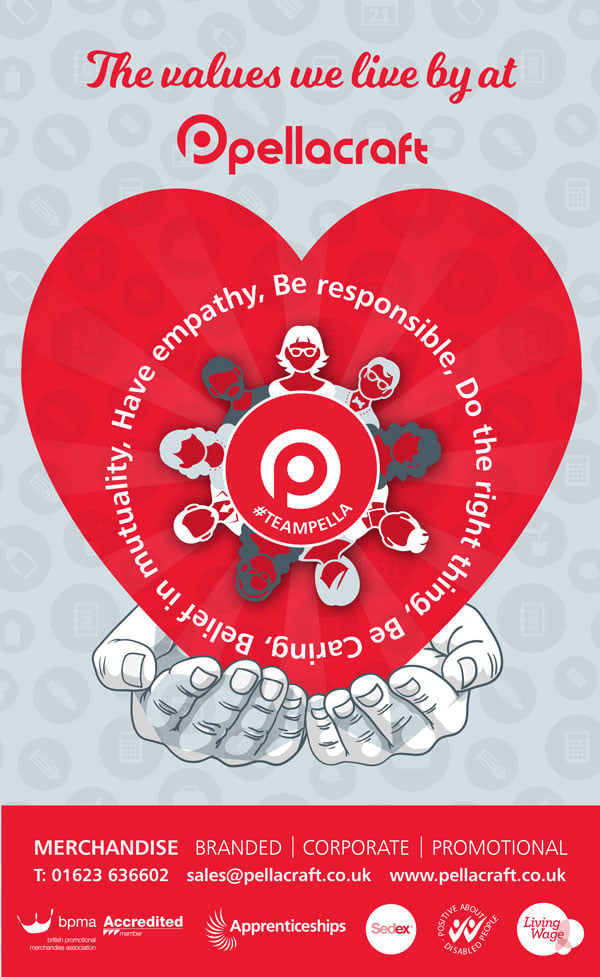 We are passionate about providing our customers with a quality service in the production of Branded promotional items and gifts. By using our experience and product knowledge, we aim to offer every customer a uniquely satisfying buying experience with us.
From product selection, creative art working whilst maintaining brand integrity, to manufacture and timely delivery, we will go out of our way to ensure that you are kept up to date and that you have a dedicated account manager to answer any query in an honest and timely way. We will quite literally bend over backwards to do right by our customers. #DoTheRightThing
Our suppliers have been audited to strict working codes, to ensure that their products are sourced and workers are all managed to a recognised industry standard.
Our employees are our most valued asset, and as such we are proud to be a Real Living Wage employer. We believe in investing in personal development training and apprenticeships so that we can grow our workforce to be specialist in our field, and in turn provide an even better service for our growing customer base.
Pellacraft is a family run business, with many customers remaining with us for over 35 years! We provide honest feedback to one another and to our customers, helping each other out, taking time to say thank you, and where we can, donating our resources or profits to those who need it more than us. We strive to remain true to ourselves, and our mission. We reflect on our successes and learn from our mistakes to keep growing and moving forward.