It's getting colder outside so we have popped together our top 5 beanie hats for you!
We had a little poll around the office about the best beanie hats, we asked for votes based on what they would wear and value for money but keeping it work related! Now, we are mostly female in this office so its little surprise really that that the more fashionable ones came up tops with our best seller coming up 5th! Guess it just goes to show that the promotional beanies we sell are really for the hard workers out in the cold (no offence team)! But workers wearing beanies, we salute you and are happy to keep your heads nice and toastie in the cold.
"Put your hat on, keep the warm in"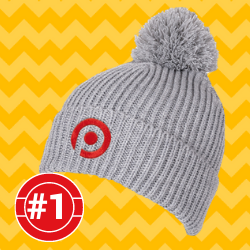 Oh how we used to take the mick but now I can't live without my beanie! (Sorry Mum, you were right all along)!
So, here are the ones that made the top 5…..out of 100's off choices!
#1 The loose knit beanie, with oversized bobble and turn up! Available in a lovely range of autumn colours that are sure to compliment your logo. We would recommend a nice tonal embroidered logo on this style; it makes it have more of a retail value but without the huge cost.
# 2 This one surprised me but it does have that more trendy feeling to it for the cool kids out there! Short fit beanie, 100% acrylic ribbed knit with a turn up. Available in a wide range of stylish colours, this classic "fisherman" styled beanie is unlike any other beanie in our current range due to its short fit that sits just above the ear.
# 3 Just a plain old beanie but an all-time classic! Made from acrylic yarn and has no turn-up. This ever-popular style is used for good value promotions through to high-quality retail and really works with a larger logo that wouldn't normally fit on a turn up or a silicon patch that would make this look real smart for that high end feel!
# 4 The Eco version of our best seller! – It has been a great addition to our range, and its made from 100% recycled polyester. We love having sustainable options for you and do get super excited when a best seller is worthy of a ECO version!
And last but by no means least;
# 5 This has got to be one of the most versatile beanies ever. It has been our most popular beanie for over a decade now! It's a great all-rounder; with its turn up and is available in so many colours so pretty much fits most requirements with its close knit acrylic finish. Whether a good value giveaway or a retail product, it is so many things to so many different people.
We have lots of beanies for you to choose from, check out the full range here; pellacraft.com/beanies