Well, hello! It's been a few weeks since my last blog! What with a lovely Easter break and then a dose of COVID, it's all been a bit of a whirl, and I don't have a store of blogs (need to put this right)! So it's nice to sit down and introduce you to 'This week's we're bringing you. Issue 11'
Good Afternoon (Tea)!
So to kick off, we have a lovely Afternoon Tea gift box!
Perfect for popping in the post or an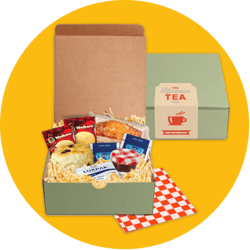 afternoon meeting when you all need that sugar rush! A beautiful pastel green box filled with all the ideal ingredients for an afternoon tea celebration. It comes packed full with a cherry & sultana scone, fruit cake, milk chocolate tea cake, mini jam jar, mini shortbread biscuits, lurpack butter and a tea sachet (and even a napkin)!
If you wish to add a mini bottle of fizz and make it an evening celebration, this is optional. Just ask the team for more information.
Click here to view the afternoon tea set.
Ideal for events, team meetings and company celebrations
Sit back, enjoy the summer.
Next, we have the good old fashioned deck chair! These l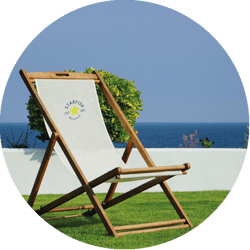 ook great indoors or outdoors. Practical and perfect for any beach, beer garden, office, fete or fair and great for sectioning off areas or keeping groups small in common places.
You can print full colour all over the panel of fabric, or keep your logo small and let your brands colour stand out!
Click here to view the deck chair.
Ideal for bars, offices, fairs and fetes!
These shoes are made for walking.
Lots of us have been walking a lot more during the lockdowns, and hopefully, it will continue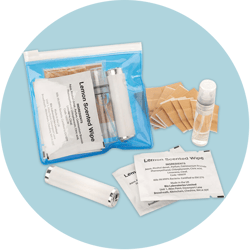 for our mental health and fitness as we ease out of lockdown!
We have a handy little pack that is great for just chucking in your bag, and it comes with a selection of essentials, including ten assorted plasters, two wet wipes, an 8ml hand sanitiser and a roll of energy sweets, all packed neatly in a PVC slide zipper pouch!
Click here to view the walking kit.
Ideal for employee well-being gifts and outdoor brands.
Chocolate fix!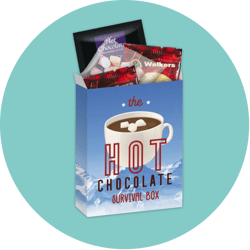 We all love a chocolate hit, especially if it arrives as a surprise in the post!
Our Eco Hot Chocolate Survival Box offers a great plastic-free alternative to our classic Refresher Packs. A digitally printed box comes with two mini shortbreads, a flow bag of mini marshmallows and a hot chocolate sachet. It's designed to fit into a large postal envelope and can be delivered straight through the letterbox.
This box is made from Sustainably Sourced Packaging and can be composted/recycled.
Click here to view the chocolate box.
Ideal for product launches, thank you gifts, team-building events and meetings.
Summer sun...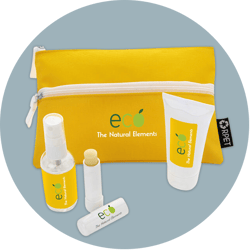 Lastly, we have a sun care kit! Hopefully, the big yellow thing in the sky will stick around for the whole summer; I think we need a cracking summer to lift everyone's mood!
With this lovely sun care set, you can full print the back and the labels to match your brand. The set includes a protecting F25 sun lotion, refreshing face spray and lip blam, all packed in an rPET zippered bag! The bag is made from post-consumer recycled plastic bottles.
Click here to view the sun care kit.
Ideal for exhibition giveaways, on-pack promotions and staff gifts.
That's me for this week; I have some lovely products planned for next week too! Enjoy the sunshine; I am off camping for the weekend to change scenery and recharge my batteries.
Stay safe, Sx.