Get off to a flying start in 2012 with Promotional Products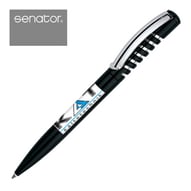 The new year is here and everyone is hoping for it to be happy and prosperous. For businesses the best way to get your company into the minds of your potential customers is to utilise promotional products into your new year marketing strategy. With so many promotional items to choose from, there really is something for every budget. Whether you are looking for corporate workwear for your staff or to promote your business at a trade show or conference, promotional products give the best ROI around.
Need more proof? The British Promotional Merchandise Association (BPMA) have conducted the first ever in-depth independent national survey into the power of promotional merchandise in the UK, and the results speak for themselves. Click the following link for more information: Promotional Products Research.
One of the most popular promotional products currently available are promotional pens. These are cheap and highly effective business gifts which have proven themselves time and time again. How may times have you used a pen with a business or company name on it? The cost effectiveness of promotional pens and their longevity are what makes them so popular, throw into the mix their great ROI and you are on to a winner from the start.
There are so many promotional items to choose from there will be one which meets your needs. Give us a call and one of our friendly staff will be happy to deal with your requests or queries.
We are an multi-award winning promotional products supplier with over 25 years experience. You are safe in our hands.
Call Us Today: 01623 636 602