A Popular Promotional Gift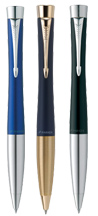 Parker prides themselves with the craftsmanship of each pen they manufacture.
Their specialised design team research the finest materials and use ultra-modern techniques to manufacture a pen to the highest quality.
Parker says that each pen has been designed and built with a single aim in mind: the search for perfection, every single time. The finest materials are used to manufacture a Parker pen whether its gold used on the more expensive pens to the Resin used on their more durable pens.
The nib for a fountain pen is a good example of the level of detail and craftsmanship that goes into a Parker pen. It takes up to a week to create a single nib as it is stamped, shaped, ground, smoothed, slit, polished and, finally, fitted. This level of detail ensures that a Parker pen will be a treasured gift for many years.
The ranges of Stainless steel pens are practical and always popular. Stainless steel is a key material in many of the pens in the Parker range. It offers strength and durability to increase the life of your pen.
Jotter Pens
The Parker Jotter is a design classic and a household name, preferred the world over for its quality, durability and great value for money. It's popular, dynamic and personifies the social side of writing with bright, lively colours and a practical, simple shape. Fun and friendly, anytime, anywhere - Jotter is the perfect Parker companion.
Vector Pens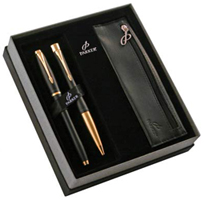 Need to make your mark? Need a blank canvas? Vector goes back to basics to give you what you want - no frills, no fuss just function. Super strong and ultra-resistant with a clear-cut Parker arrow clip and straightforward tubular construction, less has never looked so good. Parker Vector - some things stay necessary.
Urban Pens
Urban is a cool, new generation pen that redefines modern writing and reinvents the rules. It combines ergonomics with art to give an unconventional bullet shape with perfect weight and balance. Where image is everything and quality is key, choose a modern pen for a modern life. Parker Urban- engineered to impress, designed to perform.
Ideal Promotional Items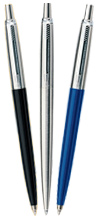 Many of the Parker Pen collections come in their own presentation box, this makes them ideal promotional gifts for corporate events or business awards. We can also offer a printing service or laser engraving service for all our parker pen collections.
The next conference you attend your stall could be handing out parker pens with your details on to new clients. For those special clients who you want to impress more we have a range of promotional fountain pens. Parker has a huge reputation for making quality pens so the recipient will know that your company only deals with quality products. Promotional pens are great solutions for advertising your company details as they are used everyday within the office.
The Pellacraft Team.