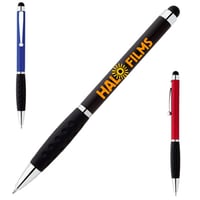 More and more people are getting tablets both for their home and obviously for business. This has created an opportunity for companies to get the most from their advertising budget.
As you probably know, promotional pens are one of the most popular freebies used by businesses to get their brand into the minds of their potential and existing customers. Now you can combine your favourite promo item with the addition of a stylus.
The popularity of the stylus pen as a promotional free gift has really taken off recently, proving to be both cost effective and highly useful. One of the main complaints about using tablets is that they are often covered in finger prints. The stylus pen is the obvious solution to this, and people seem to be taking them to heart.
Use the popularity of these pens to increase your company's exposure for minimal cost. We currently have many stylus pens on Special Offer until the end of December, so why not take the opportunity to ensure your company gets in front of your customer's eyes on a daily basis.
Either visit our Special Offer page or call us on 01623 636602 and see what we can do to help you get the most out of your advertising budget.