We've had a busy six months here at Pellacraft. Due to an increase in sales order enquiries we decided to make 4 new local appointments. The new roles are spread across the business and will help to strengthen all departments.
In total we now employ 33 people, many of whom live within a ten-mile radius of our base here in Mansfield.
Stacey Tebbett - Internal Sales
Stacey Tebbett is our newest local employment, and has joined our team as an internal sales representative. She will be responsible for taking care of new and existing customers, providing them with the best opportunities to help brand their business.
Prior to joining Pellacraft Stacey worked for Nationwide Building Society in a customer service role, serving on the counter as a cashier and conducting savings review appointments. She has also worked for big brand chains such as Specsavers, Perfect Home and Debenhams.
In her free time, Stacey is a huge bookworm, but also likes to travel and visit historical sites. She loves to go for walks with her dog Ed, a 2 year old staffie who she recently rescued from an RSPCA shelter.
Commenting on her appointment Stacey said "This job is like nothing I have ever done before and I really like the idea of a challenge. When I looked into Pellacraft and what the company is all about and has to offer, I loved that it was a successful family run business."
Martin Aspley – Graphics
Our graphics and production team has been boosted following the employment of Martin Aspley. Martin has previously managed the photo archives for EMPICS Sports Photo Agency and The Press Association, and will be helping to create customer visuals and stock photography for the graphics department, whilst assisting our production team with printing.
On his appointment Martin said "I was temping to begin with here at Pellacraft, but then joined full time. I already knew of Pellacraft's good reputation, so I knew it would be a great place to work."
In his spare time Martin enjoys playing darts and running music gigs. He likes to do as much walking and camping as he can.
Sam Critchlow – Digital Marketing
Sam Critchlow joins Team Pella as a digital marketing assistant to further improve our website and on-line presence. He is a certified Google Partner, specialising in AdWords and has five-years' experience in diverse marketing roles working across a range of industries and sectors.
Sam was brought up and still lives close to the village of Clowne, around 20 minutes away from Mansfield. He now lives with his long-term partner, their 2 budgies and a Quaker parrot named Buddy. An interesting fact about Sam's family is that on both sides, the family can be traced back to living in the Derbyshire area as far back as the 1750's. He is football mad and loves to watch Sheffield United.
Commenting on joining Pellacraft Sam said "I joined Pellacraft because I felt I needed to find a place where I belonged, and where I would be appreciated for the graft that I put into my work. Pellacraft is by far the best place I've worked at to date in terms of offering me a great platform to develop and grow as a marketer and as a person. All the staff are friendly, knowledgeable and hard working and everyone knows what they need to do and everyone works together to help #LALI on our customers."
Out of work, Sam is a trainee first aider, and spends his time travelling the country, mostly visiting motor sport events. He also does charity work as a bingo caller at his local social club and does sponsored runs regularly, most recently Derby 10K.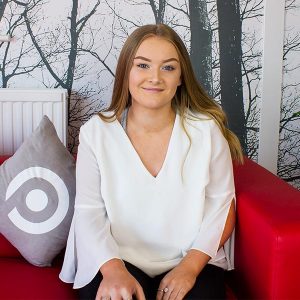 Ella Ferrer – Business Admin
Ella Ferrer joins as a business administration apprentice since leaving school, preferring to gain workplace experience over joining sixth form or college. She has previously worked as a part time waitress and at Toys 'R' Us.
Working alongside her mentor Laura, Ella will be responsible for interacting with both customers and suppliers, completing quotes and placing customer orders.
Part of a large family, Ella recently raised money for a cancer charity by doing a sponsored silence in memory of her grandma. Aside from charity work, one of her key interests is Netball, as she used to be part of the County Netball squad.
On joining Pellacraft Ella said "I joined Pellacraft as I was looking to be part of a team that was determined and up for challenges because I like an outcome to be at its best standard."