We've been trying to figure out how what the best way is of introducing you to new promotional products! We're missing our meetings and conference events, where we run though all the new bits and bobs with you, zoom is working well but not everyone has time to keep having a catch up (and we have lots to show you)!
At the moment new products are being added daily on to our website; everything new goes into latest and trending but alongside this we are going to run a new products blog called….
This week we're bringing you....
Each week we will introduce new items from our wonderful supply chain, keep you up to date with collaborations and new releases along with product developments.
We will spotlight a few areas; mainly sustainability and UK made and see how that evolves over the coming year. Pandemic related items will still play a big part and we will introduce products that help keep your teams and clients staying safe when life returns to normal.
I'll also try and give you a bit of background where I can, about how other companies are using the products and where they have been successfully. It may just cut down on your background work and we're all about saving you time and money!
We are always on hand to listen to your ideas; we might know of a product that is in development that would work brilliantly for your next promotion so challenge us to come up with ideas for you next event.
So here goes, I will start.
This week we're bringing you….
Choose sustainable style

A new range from one of our favourite brands Regatta called Honestly Made. They have created a new range of clothing, sustainably sourced and made to dramatically reduced their (and the wear's) impact on the environment. For 2021, Regatta Professional Honestly Made boasts 14 styles and is available in a variety of colourways.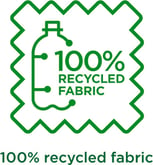 Featuring in the new Honestly Made range you will find bodywarmers, fleeces and protective jackets made entirely from recycling plastic bottles.
'As a family business built on a strongly believed set of values, we feel that honesty, courtesy and respect are essential to all the decisions we make. We focus on creating fantastic product, thoughtfully engineered for the great outdoors and in doing so will hopefully enhance the lives of those touched by our business. We are not perfect yet, but we are striving to be committed to honesty and transparency in everything we do, every step of the way'.
This is the kind of company commitment that brings music to our ears; we have been a long-time customer of Regatta and love that that they are developing a range that gives our customers and the business that we work with more sustainable promotional workwear solutions and leads to more plastic free lives.

Our aim is to get as many companies as possible, changed over to the new range and push for companies to think about this range for their promotional workwear.
Until the end of March we are offering a 10% discount on this new range, quote 10%HONESTLY

Is it time to send your teams out, promoting your brand in a sustainable and ethical way with one of the most famous promotional workwear brands?
Click here to view the full range available Regatta Honestly Made
Ideal for employees out on the move or work uniform in the warehouse.
Our bestselling range of UK made water bottles have had a new addition!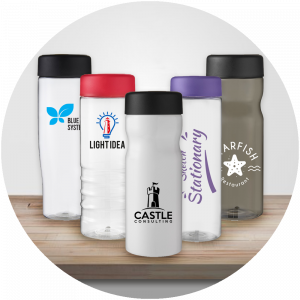 A new style lid and boy does it change this popular bottle from an everyday sports bottle to a stylish and contemporary bottle.
Just add the secure screw cap to your favourite bottle. Choose from the 850ml Single-wall water bottle with sleek design, made from fully recyclable material, the 750ml water bottle with ribbed design, the 700ml with slimline tapered design or the 600ml bottle with ergonomic design.
All Made in the UK. Packed in a home-compostable bag. Mix and match colours to create your perfect colour bottle. PET Plastic, PP Plastic.
Over the last few months companies have been using drinkware to share with their staff, keeping hydrated but also conscious of people sharing cups and glasses in the workplaces.
We also have ranges that you can add individual names on.
Drinkware is growing and to be honest; we are never going to stop drinking so they may as well be drinking out of something with your logo on it!
I know in our office, lots of us take off the lid to drink so it is more like a glass. This screw cap lids works well for us. This design is also much better for fizzy drinks than say the spout lid, as it stops the pressure build up expanding the liquid.
Ideal for conference events, zoom meetings or posting out to your teams. Add design flare to make it different.
The right was to start the day

We've shown a few people this week our new breakfast box and they think it's a great idea 'what a great way to start our meeting'.
A stylish Midi Black Gift Box comes packed with goodies to start your day right!
The box comes branded on the paper wrap seal for your logo or message and contains the following:
Juice Box, Croissant, Tea, Lurpak Butter, Nutella, Mini Jam Jar & Marmalade
What better way to start the day; we had a pen manufacturer that used to bring us breakfast in whilst we went through the product range and it kept us focused and of course we would always welcome a breakfast meeting!
You could think about sending these to your clients and arrange a breakfast meeting or send them to your team to have zoom get together over breakfast. These are great as a pick me up.
We have been sending out lots of bespoke boxes too; to celebrate product launches, conferences, anniversaries and to celebrate Christmas. Now is the time to be thinking about the next milestones coming up that you can reach out to your customers, team, or delegates and how we can make you a totally bespoke box to suit your requirements!
Check out the breakfast box here
Ideal for team meetings and client meetings.
When only the best will do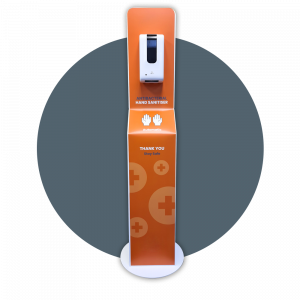 We have come across quite a few different sanitiser stations over the last few month, but this Contactless Sanitiser Stand has to the best by far! It is not the cheapest but wow, it is a great piece of kit when you see it in the flesh!
The stand is fully customisable and will be sure to look great in every office or shop floor. We have a customer's delivery here awaiting collection and even though we have only had a small number of people here; they have all passed comment on how solid it looks. Coming in at 1.64m tall, it is an impressive way to say you are serious about the safety of visitors and employees.
The sturdy unit is delivered assembled and is supplied with the gel pump 1200ml capacity dispenser. The free-standing station allows for the dispenser placement without any need to drill walls, the weighted base creates extra stability.
Check out the sanitiser station here
Ideal for offices, shop floors and warehouses.
This one is for the eco conscious (with a big budget)!

They are pure beauty and one of nicest products that I have come across in the last few years. The feel of the material is gorgeous to touch and the colour range, makes these bottles feel special.
The Ocean Bottle is made from part recycled plastic and stainless steel. Each bottle funds the collection of 11.4kg of plastic, equivalent to 1000 plastic bottles.
Plastic Bank ensures that the plastic waste is collected by locals living in coastal communities, mostly in Asia. This bottle is vacuum thermos insulated, this means it keeps cold drinks cold and hot drinks hot.
It comes with an easy carry silicone loop, double opening for easy drink and a clean drinking cup. Dishwasher safe. 500ml capacity.
Available in black, green, grey, royal blue, sky blue and orange.
Ideal for a team celebration, award gifts and VIP events gifts.
So that's my round up for this week folks; I'm already seeking out new products to bring to you next week! Have a great week, Sx