Why you should never stop marketing, even when budgets are cut!

We all know that sometimes running your business is hard and there are going to be lots of difficult decisions that need to be made. This becomes all the more harder when you find that money is tight, or that you need to cut back on some of your business-related spending.
If you are looking to make spending cutbacks, there are some things that you cut back on to save money. However, equally there are things that should always be a focus of any investments that you want to make. Marketing is one of these.
Marketing is key to your business and should always be something that you pay out for, even when your overall spending budgets are low. Want to know why we believe this? Here are the main reasons.
Your brand should always be out there

Even if you feel that your business isn't doing as well as it should, you still need to make sure that your brand is visible. Your customers need to be reminded of who you are and what you do on a regular basis, which means to be sure you stay in the forefront of their mind, they need to be able to see your brand for themselves. After all, the last thing want is for them to forget you.
Boost your sales

When things are tough for your business, you need to find something that is going to help you recover. Making more sales could be just the thing that you are looking for. Marketing is the key to sales and if you make the effort and invest in your marketing, even when things are not so great, you can move yourself closer to where you want to be in the future. After all, sometimes all you need is a few sales to help you move towards recovery.

It does not cost the Earth
Marketing is an investment, and along with this comes an associated budget and cost, however, it is important to remember that depending on the type of marketing strategy that you put in place, it doesn't have to be expensive. There are plenty of cost-effective marketing approaches out there that you can try out, such as social media and email marketing and whilst they may not cost you too much, they are always proven to have a good success rate.
Solutions for all budgets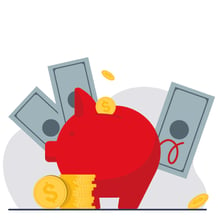 We've been working with companies for nearly 40 years; we're pretty resourceful ourselves and don't like wasted money so we can help you using our experience choose the right items to make your budget work for you and your audience to get the most value from your spend.
It might seem hopeless when your business needs a cash boost, however, it is important that you never lose sight of your end goal. There will come times when the budgets are low and the funds seem tight, but with the right focus and a whole lot of hoping, you can be sure that in the future, your business will be in a much better position.
When this time comes, you can then invest your money into making sure that you go from strength to strength and avoid the chance that you may find yourself in a difficult situation in the future.
We're all for cutting back on the cost of the items, targeting your market better for and then grow it back up to what it was before, when it's right for you.
Talk to us about maximising your budgets; we're full of great ideas!