Our branded face masks and coverings are available with high quality logo printing. You can also order shields and visors for the hospitality sector.
We deliver nationwide and offer a highly sophisticated fulfilment service for world wide distribution.
Below we highlight three products from our Stay Safe range.
W.H.O Compliant Branded Face Covering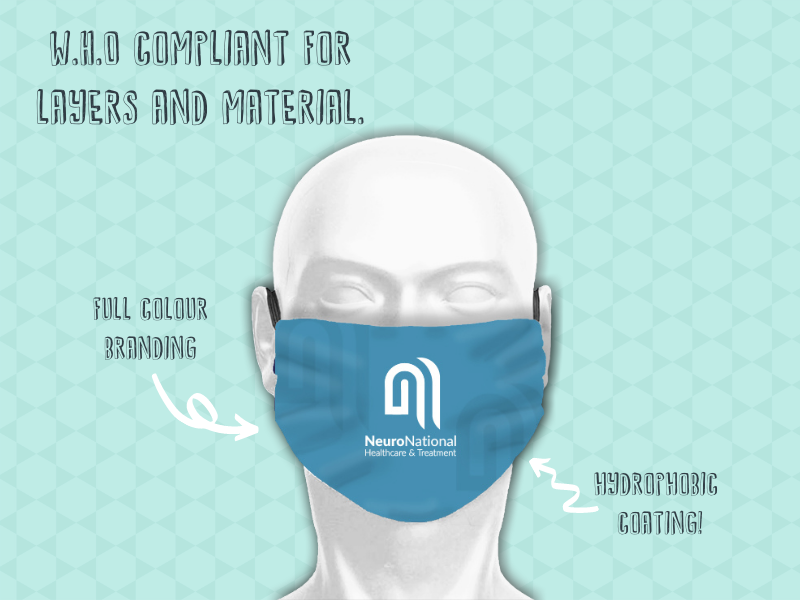 The 3 Ply Face Covering is very popular because it complies with WHO standards guidance for layer and materials.
Available in digital print with full colour branding!
Firstly, we must stress our branded face masks and coverings are for civilian use only and not intended for any medical setting. Supply them to service users who require public transport or travelling salespeople visiting our biggest cities.
They also make a great back to work initiative and can form part of your employee welcome pack.
The first layer is made from polyester with Xtra life lyrca therefore it is strong and flexible. The bonus is a hydrophobic coating applied to its surface.
Hydrophobic literally means "the fear of water" so you will be pleased to know this physical property repels water. The additional coating is also C6 FC approved.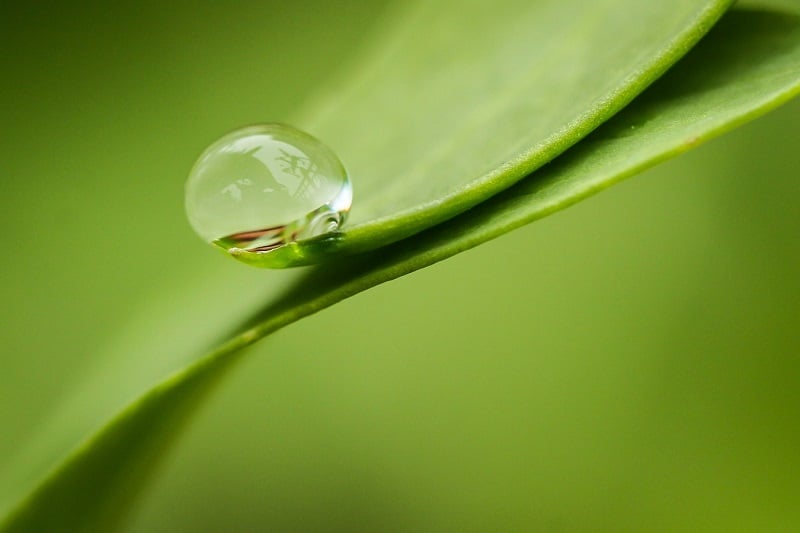 The middle layer is a nonwoven, spunbonded polypropylene with a thickness of 70GSM. Additionally, it is very strong, lightweight, and cost-effective.
Polypropylene is the safest of all plastics and its breathable nature makes it soft but also resilient to moisture.
Finally, the inner layer is a nice thick 100% cotton jersey, soft to the touch and delicate on your mouth and nose.
Remember to wash your face coverings after every use and stay reassured because the hydrophobic coating will last 50 washes at 60 degrees.
You can also hand dry and iron at a very low temperature.
Reusable 2-Ply Cotton Face Covering
Our Reusable 2-Ply Cotton Face Covering helps protect you in public by reducing the spread of saliva while talking, sneezing or coughing.
Disposable, cheap branded face masks with flimsy string is fiddly and a real pain to tie and untie.
Luckily, you can wear ours with ease because of its adjustable (and comfortable) ear loops. It is designed to fit every face and is effortless to take on and off.
They are also machine washable at 60 degrees and have an insert for a filter.
Protective Face Visors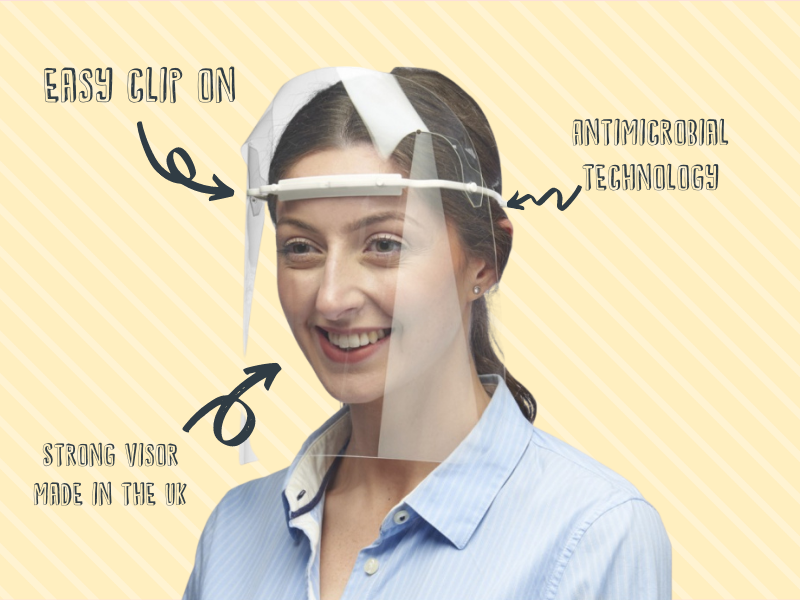 A great alternative to our face coverings, unbranded CE certified visors will save you money!
Its wraparound design shields you from saliva. Available as two different product lines, our medium sized visors start with a MOQ of 100 and come with a 10 working day lead time.
Need something a little bigger? Benefit from large sized visors for only a fraction more of the cost. Both come with intelligent Biomaster antimicrobial technology built into its surface.
The frame protects your workforce from harmful micro-organisms and the PET visor easily clips on. Sturdy and reliable, this safety solution works best for employees in the hospitality trade or customers working in public environments.
FREE Samples of our branded face masks and coverings available!